Archived Webcast
Spectrum Issues Update
The NAB Webcasts for Public Broadcasters are live, interactive webcast sessions designed specifically for non-commercial broadcast professionals and are an exclusive free NAB member benefit.

June 17 - July 29, 2015
The NAB Online Leadership Academy is an exclusive members-only online education webcast series designed with your needs in mind. Delivering multiple content offerings, sessions are designed to help further your professional skills and share valuable knowledge from prominent experts and leaders in the broadcast industry.

July 28, 2015
Mobilize Your Creative to Maximize Legal Sales
Designed for senior sales executives, Strategic Sales Solutions (S-cubed) webcasts deliver impactful sales training to help stations increase their bottom lines. S-cubed is an exclusive NAB and TVB member benefit.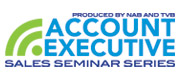 Archived Webcasts
The Account Executive Sales Seminar Series provided training to AEs with two years or less media sales experience. The series concluded in 2014 but archived webcasts are available to subscribing stations. The AE Webcasts are an exclusive benefit to members of NAB and TVB.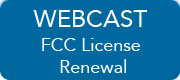 Archived Webcast
NAB's FCC License Renewal Webcast is an hour-long live program that will give an overview of the license renewal process, including guidance on what to look for on the revised form, and more importantly, advice on how to avoid the common pitfalls that can lead to unwelcome penalties. Peter Doyle, chief of the Audio Division, Media Bureau, FCC, and Frank Jazzo, co-managing member of Fletcher, Heald & Hildreth, PLC, participated in the discussion, which includes a question and answer session. This webcast is for NAB members only.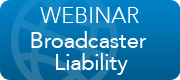 Archived Webcast
Are you at risk? Twitter, Facebook, Podcasts - the liability risks associated with new media are daunting. Are you prepared? Join AXIS PRO's Scott Swift, assistant vice president, Claims for this complimentary webcast. Click here to view the archived webcast.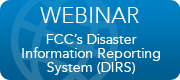 Archived Webcast
This webcast describes the valuable benefits of participating in the Federal Communications Commission's (FCC) DIRS program, as well as the very simple process for signing up for DIRS and updating your broadcast status during times of emergencies. The webcast is free to NAB members and non-members.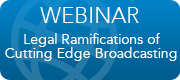 Archived Webcast
NAB Partner Media/Professional Insurance discusses the legal issues involving broadcasters who are pushing the envelope through on-air contests and segments using hidden cameras or unannounced interviews of story subjects to attract new audiences. To view the webcast click here or call 202 429 5384. This session is available free for NAB members only.