One Voice – United We Are Stronger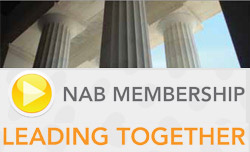 The National Association of Broadcasters (NAB) is the voice for the nation's radio and television broadcasters, including commercial, public, religious, small, medium and large market stations. We fight for policies that strengthen broadcasting, and provide resources to help decrease station costs and increase revenue.
NAB is changing the game for broadcasters, both in Washington, D.C., and at stations. Whether it's fighting a performance tax on local radio stations, ensuring streaming rates create more choices for listeners or informing Congress that limiting the deductibility of advertising would negatively impacting broadcasting, NAB has your back in our nation's capital.
But our success as an industry is not possible without the engagement and unity of our members. We need you on board.
Joining NAB will make you – and your business – a stronger, more impactful player in broadcasting's future.
A host of benefits are available to members.
Commercial Stations
Radio and television dues are equitably based on revenue.
Request your rate by returning this application or email us.
Public (Non-Commercial) Stations
Public radio and television dues are set at special non-commercial rates.
Please return this application or email us.
Contact us to learn more:

Contact us to learn more: NAB Membership 1771 N Street NW Washington DC 20036-2891

membership@nab.org
202 429 5400