NAB Auto Initiative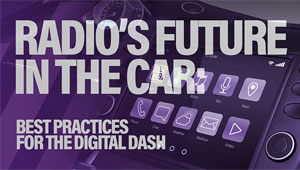 Radio's Future in the Car: Best Practices for the Digital Dash is a webcast that occurred on December 14, and focused on the digital dash and how radio professionals can optimize the in-car presence of their stations. Fred Jacobs revealed key findings from an NAB study on the topic and discusses actionable strategies for success. Our panel then discussed the actionable steps they have taken to implement these best practices at their stations.
View Webcast
---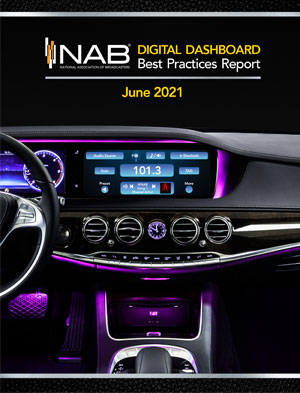 Modern car radios offer broadcasters significant opporunities for improving how their stations look on the dash. Knowing this, NAB commissioned a project designed to help radio broadcasters better understand the way broadcast radio stations are displayed on automobile dashboards. We analyzed the current state of broadcast station dashboard identification and developed a best practices guide that radio companies can adopt. The goal is for broadcast radio to embrace a more unified display style that will achieve a positive, consistent user experience for drivers and passengers. To accomplish this, the industry will need a high level of collaboration between management/ownership, programmers, digital managers and engineers.
Two important documents are available for downloading here:
The Digital Dashboard Best Practices Report (Updated June 2021) is a 29-page document which provides background information on the project, some results from the digital dashboard "audit" that NAB conducted in Grand Rapids, Charlotte, and Philadelphia, and a discussion of the areas that broadcasters need to focus on to improve the consumer experience with radio in the car. Added in June 2021 is additional information about hybrid radio and some results from a test drive of an Audio A4 (with bybrid radio) conducted by NAB in February 2021.
The NAB Digital Dashboard Recommended Best Practices (Updated June 2021) is a three-page document that summarizes, for radio station programming and engineering departments, key steps broadcasters can take that when followed, should result in a dashboard appearance that is useful and pleasing to listeners, and will support a more consistent user experience across the radio dial. New for the 2021 update is a list of metadata service providers that should prove useful for broadcasters seeking to improve their usgae of metadata.