FOR IMMEDIATE RELEASE
March 19, 2008
HP and Dreamworks Animation to Share Stage for NAB Show Keynote
--Todd Bradley, Jeffrey Katzenberg and Roger Enrico to Discuss How Creativity Drives Innovation--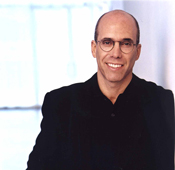 Download hi-resolution photo of Jeffrey Katzenberg
WASHINGTON, D.C. - HP and DreamWorks will take the stage on Monday, April 14 at the NAB Show to discuss fast-approaching technology changes that have the opportunity to dramatically influence the broadcast, film/video post, animation and graphic arts industries.
Jeffrey Katzenberg, chief executive officer and director of DreamWorks Animation will make an appearance via video-monitor, as Todd Bradley, HP executive vice president of the personal systems group, and Roger Enrico, chairman of the board for DreamWorks Animation, share the stage and describe how creativity is driving technology advances and expanding the potential for new content in a keynote address entitled, "Digital Innovation: What You Dream is What You Get."
The trio will discuss future highly integrated systems that will enable superior content and greater levels of digital color consistency from device to device. Katzenberg also is expected to give the audience a sneak preview of upcoming digital 3-D movies from DreamWorks Animation.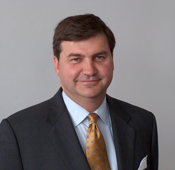 Download hi-resolution photo of Todd Bradley
Two years ago, HP and DreamWorks began an unprecedented collaboration on breakthrough approaches to give creative professionals assurance that color could be accurate, predictable and consistent across multiple computers, monitors and printers. HP's DreamColor initiative aimed at identifying a process for capturing, designing, editing and printing via sensor-based, closed-loop control systems for definitive color reproduction. Last March, HP announced the first printers to incorporate the DreamColor technology.
Katzenberg, Bradley and Enrico join Hulu CEO Jason Kilar, Lost Executive Producers Carlton Cuse and Damon Lindelof, Jumper Director and Producer Doug Liman, CSI creator Anthony Zuiker, Pushing Daisies Director and Executive Producer Barry Sonnenfeld, Six Flags President and CEO Mark Shapiro, and best-selling author Alvin Toffler as featured speakers during this year's NAB Show.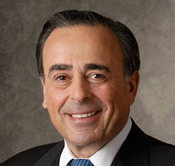 Download hi-resolution photo of Roger Enrico
Bradley heads HP's Personal Systems Group, a $38.5 billion annual business that includes personal computers, mobile devices, workstations, digital televisions, personal storage solutions and Internet devices. Bradley is credited with invigorating growth and profitability for HP's Personal Systems Group to record levels with a combination of marketing reinvention, product innovation and an extreme commitment to customers. HP products have become the choice of the most power-hungry industry players and are used to produce special effects in big-screen Hollywood blockbusters, including the Pirates of the Caribbean films and Spider-Man 3, and to create animated films such as all three of the Shrek movies, Bee Movie and Happy Feet.
Enrico is the former chairman and CEO of PepsiCo, having retired from the company in 2002 after a 31-year career during which he led each of the corporation's major business units, both in the U.S. and abroad. At PepsiCo, Enrico led the company through a major restructuring, refocusing the corporation on convenient snacks and beverages. Under his leadership, PepsiCo spun-off its restaurant business as an independent public company, launched an initial public offering of The Pepsi Bottling Group, and acquired Tropicana Products and The Quaker Oats Company.
Katzenberg co-founded and was a principal member of DreamWorks Studios from its founding in October 1994 until its sale to Paramount in January 2006. Prior to founding DreamWorks Studios, Katzenberg served as chairman of the board of The Walt Disney Studios from 1984 to 1994, during which time the studio produced a string of box office hits, including Who Framed Roger Rabbit, The Little Mermaid, Beauty and the Beast, Aladdin and The Lion King. Prior to joining Disney, Katzenberg was president of Paramount Studios.
More information about HP DreamColor Technologies is available at www.hpdreamcolor.com.
About the 2008 NAB Show
The NAB Show will take place April 11 - 17, 2008 in Las Vegas (exhibits open April 14). It is the world's largest electronic media show covering filmed entertainment and the development, management and delivery of content across all mediums. Complete details are available at www.nabshow.com.
About NAB
The National Association of Broadcasters is a trade association that advocates on behalf of more than 8,300 free, local radio and television stations and also broadcast networks before Congress, the Federal Communications Commission and the Courts. Information about NAB can be found at www.nab.org.
###