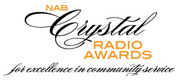 Crystal Radio Awards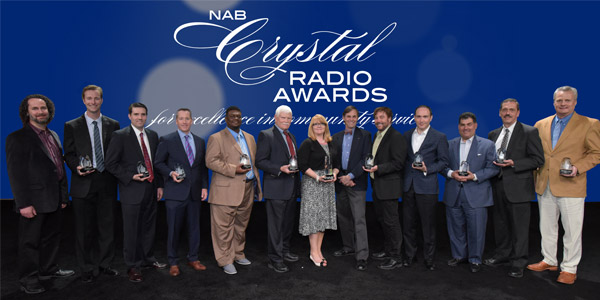 L to R: Jason Steinberg, WBAB-FM, Chris Lloyd, WBAB-FM, Justin Chase, WJBR-FM, Scott Sutherland, KTAR-FM, Theo Terry, KPRS-FM, Robert Prasil, KRLC-AM, Mary Ellen Kachinske, WTMX-FM (Crystal Heritage Recipient), Lester Turner, Jr., WRLT-FM, Gary Kraen, WRLT-FM, Andre Fernandez, CBS Radio (KNX-AM), Scott Herman, CBS Radio (WWJ-AM), Bob Shomper, WCCO-AM, William Hicks, KNDE-FM
Congratulations 2016 Crystal Radio Award winners! Read News Release »
The NAB Crystal Radio Awards are presented annually by the National Association of Broadcasters to U.S. NAB member radio stations. The award was established in 1987 to recognize radio stations for year-round commitment to local community service.
Finalists for the Crystal Radio Award are selected by a panel of judges representing broadcasting, community service organizations, and public relations firms. Selected from a pool of 50 finalists, 10 stations are selected for the award honoring their efforts to improve the quality of life in their local communities. The NAB Crystal Radio Award winners are announced during the Radio Luncheon held at the annual NAB Show in Las Vegas.
Entry Information
The entry window for the 2016 NAB Crystal Radio Awards is closed. The 50 finalists will be announced in February, and the 10 recipients will be honored during the NAB Show's Radio Luncheon on April 19.
Crystal Heritage Award
The NAB Crystal Heritage Award recognizes a radio station's long-term commitment to community service, honoring stations that have won a total of five Crystal Radio Awards. This year's recipient is WTMX-FM, Chicago, IL.
Learn more »