Crystal Radio Awards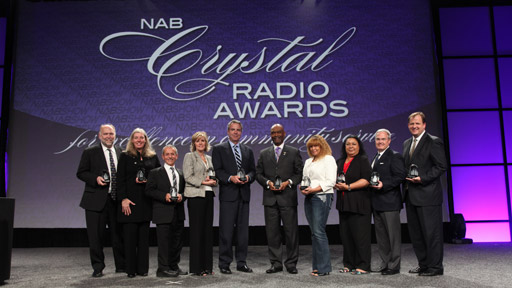 From left to right: David Hoxeng, WYCT-FM; Beth Mann, WKDZ-FM; Rick Cummings, WQHT-FM; Katie Gambill, WYCT-FM; Joel Oxley, WTOP-FM; Jim Watkins, WHUR-FM; Terri Avery, WPEG-FM; Sylvia Cariker, KUZZ-FM; Mike Dowdle, KIRO-FM; and Jeff Simpson, KSFI-FM.
NOTE: Please read all rules, guidelines and instructions carefully.
Entry Rules
Entries must include all four sections to be eligible for judging.
Entries must be received by the NAB no later than January 31, 2013
Commercial and non commercial over-the-air radio stations in the U.S. are eligible to enter.
Each submission may cover only one station's community service efforts.
Entry should include all community service efforts that occurred during the 2012 calendar year: January 1, 2012, through December 31, 2012.
Entry fee is $60 for members, $120 for non members. You must pay online by credit card.
Stations that won a 2012 NAB Crystal Radio Award cannot enter again until 2014.
Submission Guidelines
ALL ENTRIES MUST BE SUBMITTED ONLINE AND AS PART OF ONE DOCUMENT.
No video or audio will be accepted.
Call letters should appear on all pages.
All Sections must be clearly identified.
Photos and thank-you notes should be used throughout sections 2-4.
Any section containing photos or entry information will be included in the page count for that section.
Entries must meet all entry requirements in order to be considered.
Entry gives NAB the right to use the awards ceremony, station name, and entry content - in whole or in part for promotional and other purposes without additional consideration.
In submitting this entry, entrant certifies that it holds all legal rights to the material submitted, and entrant hereby irrevocably grants to NAB the nonexclusive right to use said material in whatever manner NAB deems proper, including the production of books, audio tapes and other media.