Current Award Recipients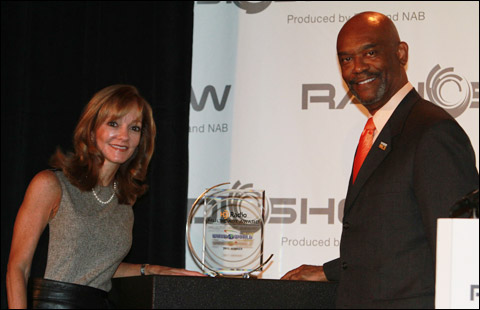 Jim Watkins, General Manager, WHUR-FM, Washington, DC accepts the HD Radio Multicast Award from NAB Radio Board Chair Caroline Beasley


WHUR-FM – 2011 NAB HD Radio Multicast Award
The winner of the fifth annual NAB Radio Multicast Award is Washington, D.C.'s WHUR-FM.
WHUR-FM received the award for its Urban World multicast station, 96.3-HD WHUR-WORLD. The award was presented on Thursday, September 15 at the 2011 Radio show produced by NAB and RAB in Chicago.
The station's informational programming draws on several cultural platforms to engage diverse listeners in Washington, D.C. Its music includes jazz, rhythm & blues, hip hop, blues, and African-American folk. On Saturdays, "The Sighlent Storm" discusses domestic violence. WHUR-WORLD produced several 4-hour documentaries including "Black Draft: Rise of the Black Athlete," "Un-Leashing the Chains: Black Men In Prison," "Freedom Riders: 50-Years Beyond SNCC," and "Legacy of A Legend: Michael Jackson's Story." WHUR-WORLD also won the HD Radio Multicast Award in 2008.
Winners of the NAB HD Radio Multicast Award are recognized for their ability to create innovative or groundbreaking programming on their multicast channel. To be eligible for the award, stations submitted information about the side-channel's original programming, on-air personalities, social media marketing, branding elements, promotions and website to illustrate the qualities that make their multicast channel separate from their main station. Previous award recipients include KBCO-FM Denver's "The Studio C Channel," WRIF-FM Detroit's "Riff2," WAMU-FM for its Bluegrass Country station, 88.5-2, and WSTW-FM for its Graffiti Radio on 93.7-2.