A Performance Tax Puts Local Jobs at Risk Additional Resources
Print Ad Gallery
See why enacting a performance fee on local radio would be bad for listeners and bad for your community. Click the images below to view and download high-resolution PDF advertisements opposing the Performance Rights Act. These ads can be used by stations to help advocate this issue on their websites or other forums.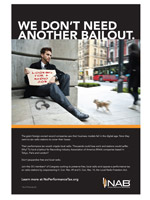 ---
Click here
for a printable issue sheet on the performance fee.
Performance Rights Act FAQ
Radio Airplay and the Record Industry: An Economic Analysis
Should the U.S. Lead or Follow?
Free Radio Alliance