Distinguished Service Award
Current Award Recipients
David Hartman and Joan Lunden
2017 Distinguished Service Award Winners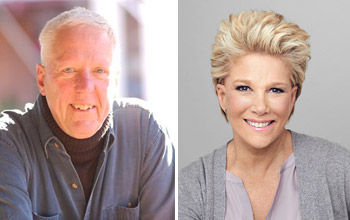 Popular media personalities and former co-hosts of ABC's "Good Morning America," David Hartman and Joan Lunden, received the NAB Distinguished Service Award (DSA) during the 2017 NAB Show in Las Vegas.
"Millions of Americans remember starting their day with the trusted voices of David Hartman and Joan Lunden during their years hosting 'Good Morning America,'" said NAB President and CEO Gordon Smith. "We honor their remarkable careers, their service to broadcasting, and their ongoing commitment to public service with NAB's highest honor."
The original host of "Good Morning America," Hartman conducted more than 12,000 interviews with some of the world's most influential public figures. In the early 1970s, he launched his own documentary production company with the goal of presenting constructive information to the American public. He has co-produced, written and hosted more than 60 hours of documentaries for the major television networks, PBS and cable.
Hartman's numerous journalism honors include National News and Documentary Emmys and the Aviation and Space Writers Journalism Award. He and then Governor Ronald Reagan were honored together by the San Francisco Press Club for their community service efforts. He continues to produce and write a dozen programs each year on the history of American military aviation and its efforts in space.
Lunden became the co-host of "Good Morning America" in 1980 and went on to be the longest-running female host ever on early morning television. For nearly two decades, Lunden reported from 26 countries, covered five presidents, five Olympics, and two royal weddings. During her tenure on "Good Morning America," Lunden broke barriers as one of the first female anchors to remain on air during three pregnancies. One of the most recognized and trusted news personalities, Lunden has graced the covers of over 60 magazines and is a best-selling author. She is currently a special correspondent for NBC's "Today" show and host of the CBS series "Your Health With Joan Lunden."
Lunden was honored with an ACE award for her Lifetime program, "Mother's Day;" a Gracie Award for her RLTV program, "Taking Care with Joan Lunden;" and a Daytime Emmy in the Outstanding Special Category for her documentary, "America's Invisible Children." She also shares two Daytime Emmys with the cast and crew of "Good Morning America." For her in-depth coverage of our Armed Forces in her Behind Closed Doors series, Lunden was awarded the Decoration for Distinguished Civilian Service Award, which is the highest honor that can be given to a civilian.