National Radio Award
Current Award Recipients
David Field
2017 NAB National Radio Award Winner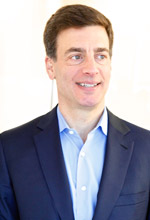 David Field is president and chief executive officer at Entercom, the fourth-largest radio broadcasting company in the United States. 
Prior to becoming Entercom's president in 1998, Field served in multiple positions with the company, including chief operating officer and chief financial officer. Before joining Entercom, he was an investment banker at Goldman, Sachs & Co. in New York. 
Field has received numerous awards for his leadership and community service and has been named to "Institutional Investor's" list of the Best CEOs in America three times. Additionally, he serves on the boards of directors of Entercom, the National Constitution Center, The Wilderness Society, and on the Madison Council of the Library of Congress. Field has also served as chairman of the NAB Radio Board.
Each year the National Radio Award honors an individual who is an outstanding leader in radio broadcasting. Previous National Radio Award recipients include George Beasley, Ginny Morris, Dan Mason, Steven Newberry, Charles Warfield, Ed Christian, Bruce Reese, Jerry Lee, David Kennedy, John Dille, Lowry Mays, Jeff Smulyan, Bill Stakelin, and Erica Farber, among others.