National Radio Award
Current Award Recipients
John David
2018 NAB National Radio Award Winner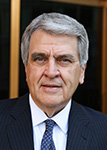 John David is the National Association of Broadcasters' special advisor to the Executive Office. Previously, he served NAB as the executive vice president, Radio. in this role, he is responsible for service to NAB member radio stations and networks. John joined NAB in 1989 as vice president of Broadcaster Congressional Relations. In 1992, he became senior vice president of NAB Radio and was promoted in 1998 to executive vice president.
John's broadcast career includes programming and management positions at radio stations in Oklahoma, Missouri and Kansas. From 1971-1988, he served as the executive vice president of J.R. Broadcasting Company, and during that time, served as owner and general manager of radio stations in Missouri and Kansas. 
John represented Kansas and Missouri as a member of the NAB Radio Board of Directors from 1984-1988. He was the Missouri NAB legislative liaison committee chair and headed NAB political action committee activity. He also served as the NAB Radio Membership Committee Chairman.
He is a past president of the Missouri Broadcasters Association, and the recipient of the MBA Distinguished Broadcaster Award.
Since 2000, John has been recognized every year in Radio Ink magazine as one of the Top 40 Most Powerful People in Radio.
He is also a member of the Oklahoma Association of Broadcasters Hall of Fame, and the was first inductee into the Missouri Broadcasters Association's Hall of Fame in June 2011.
John holds a B.S. in Radio/Television Communications from Oklahoma State University.
---
Each year the National Radio Award honors an individual who is an outstanding leader in radio broadcasting. Previous National Radio Award recipients include David Field, George Beasley, Ginny Morris, Dan Mason, Steven Newberry, Charles Warfield, Ed Christian, Bruce Reese, Jerry Lee, David Kennedy, John Dille, Lowry Mays, Jeff Smulyan, Bill Stakelin, and Erica Farber, among others.