Broadcasting Hall of Fame
Current Award Recipients
Chuck Lorre, 2016 Broadcasting Hall of Fame Television Inductee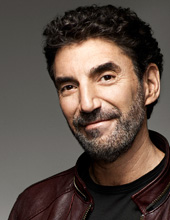 Legendary executive producer/writer Chuck Lorre — the creative force behind the Warner Bros. Television hit broadcast comedies "The Big Bang Theory," "Mom," "Mike & Molly" and "Two and a Half Men" for CBS — is the 2016 inductee into the NAB Broadcasting Hall of Fame.
As a writer, creator and executive producer, Lorre has been the driving force behind some of the top comedies on television. He is co-creator/executive producer of the blockbuster hit "The Big Bang Theory," TV's #1 entertainment series among Total Viewers and #1 comedy among Adults 18–49, as well as the critically acclaimed "Mom," starring Anna Faris and Allison Janney, which was honored as a recipient at the Television Academy Honors in 2014.
Lorre is also executive producer of "Mike & Molly," starring Billy Gardell and Melissa McCarthy, which completes its six-year run this spring, and he was previously co-creator/executive producer of the hit "Two and a Half Men," which aired for twelve seasons and was one of TV's longest-running comedies. Before that, Lorre created hits such as "Cybill," "Dharma & Greg" and "Grace Under Fire," and he also served as co-executive producer on "Roseanne."
"An artist in the prime of his career, Chuck Lorre is a legendary television writer and producer," said NAB Executive Vice President of Television Marcellus Alexander. "His biting wit and memorable characters have become a part of our culture and defined an era of scripted comedies for Warner Bros. Television and CBS – comedies that remind us, on a weekly basis, of the scale and power of broadcast television."
In 2015, Lorre harnessed that power by spearheading the establishment of "The Big Bang Theory" Scholarship Endowment at UCLA to support undergraduate students in need of financial aid who are pursuing their higher education in the fields of Science, Technology, Engineering and Mathematics (STEM). The endowment has raised more than $4 million and supports a class of 20 scholars for the 2015–16 academic year, with an additional five scholars to be added in each future year — in perpetuity.
Throughout his career, Lorre has become known for expressing his thoughts and views through personal messages in the split-second vanity cards which appear at the end of episodes of his shows. Select cards were compiled into a book, released in 2012, titled "What Doesn't Kill Us Makes Us Bitter." All of Lorre's proceeds from the sale of the book benefit many health care–related charities and educational efforts.
Lorre got his start as a guitarist/singer, touring the country and writing pop songs, including Debbie Harry's Top 40 hit "French Kissin' in the USA," before turning his attention to television. He wrote animation scripts for DIC and Marvel Productions, then wrote and produced themes and scores for several animated series, including "Teenage Mutant Ninja Turtles." A spec primetime script soon led to freelance work on the syndicated comedy "Charles in Charge" and, eventually, a staff job on "My Two Dads."
In recognition of his career accomplishments, Lorre has received numerous industry accolades, including the NATPE Brandon Tartikoff Legacy Award, Television Showman of the Year at the 46th Annual ICG Publicists Awards Ceremony and a star on the Hollywood Walk of Fame. In 2012, he was inducted into the Television Academy Hall of Fame.
"Scandal" and "Grey's Anatomy" creator/executive producer Shonda Rhimes joined the Hall of Fame in 2015. Previous NAB Broadcasting Hall of Fame television inductees include "Everybody Loves Raymond," "American Idol," Betty White, Garry Marshall, "Meet The Press," Bob Newhart, "The Tonight Show," "Saturday Night Live," Ted Koppel, "M*A*S*H," "60 Minutes," "The Today Show," and "Star Trek."
Mike and Mike, 2016 Broadcasting Hall of Fame Radio Inductees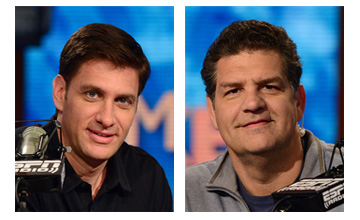 Mike Golic and Mike Greenberg, hosts of ESPN Radio's weekday morning show "Mike & Mike," are the 2016 inductees into the National Association of Broadcasters (NAB) Broadcasting Hall of Fame.
Since 2000, "Mike & Mike" has covered top sports news, games and drama. Golic and Greenberg's contrasting personalities and witty rapport is a highlight of each broadcast. The show airs weekday mornings and is available on ESPN Radio and on ESPN affiliates across the country. In March 2015, the program celebrated its 15th anniversary with a special show from Walt Disney World in Orlando.
In addition to the show, Golic and Greenberg have appeared in two motion pictures, "Valentine's Day" and "Just Wright;" served as guest emcees at the White House's Tee Ball on the South Lawn, and received a Sports Emmy for Achievement in Content for Non-Traditional Delivery for their "Off Mikes" animated comedy series. In April 2010, the duo released "Mike & Mike's Rules for Sports and Life," which reached number three on the New York Times best-sellers list.
"Golic and Greenberg, with their mix of sports savvy and humor, have been informing and entertaining fans for more than 15 years," said NAB Executive Vice President of Radio John David. "The two have seamlessly combined their passion for sports with radio, and we are honored to add them to our distinguished Hall of Fame."
Golic is a nine-year NFL veteran, where he played defensive tackle for the Houston Oilers, Philadelphia Eagles and Miami Dolphins. While in Philadelphia, he began his television career with a weekly segment on the "Randall Cunningham Show." He received a Mid-Atlantic Region Emmy Award for his feature "Golic's Got It."
Greenberg joined ESPN in September 1996 as an anchor on ESPNEWS and also later anchored SportsCenter. Prior to joining ESPN, he worked as a sports anchor for CLTV, the regional cable news network in Chicago. While there, he covered all local sports teams, anchored sportscasts and hosted "SportsPage," a one-hour Sunday night program featuring in-studio guests and viewer calls. In 2007, Greenberg published his first book, "Why My Wife Thinks I'm an Idiot," followed by his first novel in 2013, "All You Could Ask For," both of which were featured on the New York Times best-sellers list. His third book, "My Father's Wives," was published in 2015. Greenberg is a graduate of the Medill School of Journalism at Northwestern University.
Previous NAB Radio Broadcasting Hall of Fame inductees include KROQ's Kevin and Bean, Steve Harvey, Dave Ramsey, Bob Uecker, Gerry House, Ron Chapman, Vin Scully, Jack Buck and Harry Caray, among others.