Broadcasting Hall of Fame
Current Award Recipients
María Elena Salinas, 2017 Broadcasting Hall of Fame Television Inductee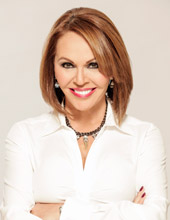 Award-winning journalist and co-anchor of "Noticiero Univision" María Elena Salinas is the 2017 inductee into the National Association of Broadcasters (NAB) Broadcasting Hall of Fame.
Salinas began her journalism career in 1981 as a reporter, anchor and public affairs host at Univision's KMEX-34 in Los Angeles. Her daily reporting to the growing Hispanic community in Southern California led to her joining Jorge Ramos as co-anchor of the national Spanish language news program "Noticiero Univision" in 1987.
In 2015, Salinas received a Peabody Award, Walter Cronkite Award, an Emmy and Gracie for her documentary special "Entre el abandono y el rechazo" (Between Abandonment and Rejection), a prime-time report on the exodus of Central American children to the United States. In 2016, she was the recipient of the Mickey Leland Humanitarian award, and in 2012, she became the first Latina to receive an Emmy Award for Lifetime Achievement from the National Academy of Television Arts and Sciences.
"María Elena Salinas is an outstanding example of the profound effect broadcast television can have on the audiences it serves," said NAB Executive Vice President of Television Marcellus Alexander. "María has a deep connection to the needs of the Latino community, and she represents their interests on and off the screen."
In addition to her journalism career, Salinas has served as the spokeswoman for the National Association of Latino Elected and Appointed Officials (NALEO) for nearly two decades during their campaign to increase Latino voter engagement. NALEO assists immigrants with the American citizenship process, including registering to vote and participating in politics. For her work with the organization, she has been recognized by National Organization for Women, Mexican-American Legal Defense and Educational Fund and the Congressional Hispanic Caucus Institute, among others. Salinas was also honored with the Ruben Salazar Award for Communications from the National Council of La Raza.
Delilah, 2017 Broadcasting Hall of Fame Radio Inductee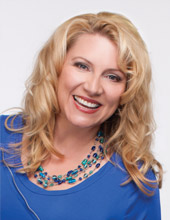 Nationally-syndicated radio personality Delilah is the 2017 inductee into the National Association of Broadcasters (NAB) Broadcasting Hall of Fame.
Delilah first became interested in radio as a middle school student in Reedsport, Oregon, where she provided school news and sports reports for the local station KDUN-AM. Since then, Delilah has expanded her adult contemporary radio show audience to more than eight million weekly listeners on approximately 160 stations across the country, making her the most-listened-to-woman on radio in the United States.
"With her distinctive blend of story-telling, listening and encouragement, Delilah has rightfully earned the distinction of being one of the most significant voices in American radio," said NAB Executive Vice President of Radio John David. "Delilah's career represents the true impact that radio can have on its listeners."
Delilah is the author of three books, including "Arms Full of Love," which was released in 2012. Published by Harlequin Books, it features a collection of heartfelt listener stories and Delilah's own tales that demonstrate the importance of family.
Additionally, Delilah established the non-profit Point Hope in 2004. The organization addresses the needs of special needs children in the foster care system nationwide, in addition to refugee children in Ghana. Delilah is the mother of 13 children, 10 of whom were adopted.