FOR IMMEDIATE RELEASE
November 23, 2009
Michael J. Fox to Receive NAB Distinguished Service Award
--Five-Time Emmy and Golden Globe Winner to Be Honored at 2010 NAB Show--
WASHINGTON, DC - Michael J. Fox, actor, author and devoted advocate for increased funding for Parkinson's disease research, will receive the NAB Distinguished Service Award during the 2010 NAB Show. Fox will be honored for the impact his career has had on the television industry, as well as his commitment to raising awareness for Parkinson's disease through The Michael J. Fox Foundation for Parkinson's Research. The award will be presented during the All Industry Opening Keynote address on April 12, 2010 in Las Vegas.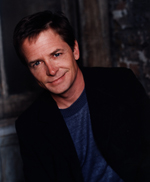 Download high-resolution photo of Michael J. Fox
Photo Credit: Mark Seliger
"Michael J. Fox is a true role model in every sense of the word, using his fame and influence as a successful actor to help fund nearly $160 million dollars in Parkinson's research," said NAB President and CEO Gordon Smith. "We are proud to honor him for his tremendous contributions to both the entertainment and medical research communities."
Fox's role as the conservative child Alex P. Keaton on the hit NBC show "Family Ties" made him one of the country's most prominent young actors of the 1980s. The show, which ran from 1982-1989, was a critical and commercial success, earning Fox three Emmys and a Golden Globe Award. Fox returned to series television again in 1996 as Michael Flaherty, New York's deputy mayor on the ABC show "Spin City." His portrayal of Flaherty earned numerous awards, including three Golden Globes, an Emmy, a People's Choice Award and two Screen Actors Guild (SAG) Awards. Since Fox's departure from "Spin City" in 2000, he has appeared in guest spots on several television programs, most recently FX's "Rescue Me," for which he received a fifth Emmy Award in 2009.
An international film star, Fox has appeared in a variety of comedic and dramatic movie roles, including the highly successful "Back to the Future" trilogy, "The Hard Way," "Doc Hollywood," "The Secret of My Success," "Bright Lights, Big City," "Light of Day," "Teen Wolf," "Casualties of War," "Life With Mikey," "For Love or Money," "The American President," "Greedy," "The Frighteners" and "Mars Attacks!" Fox has also performed voiceovers for "Atlantis The Lost Empire," "Homeward Bound" and "Stuart Little."
Also a renowned author, Fox's Always Looking Up: The Adventures of an Incurable Optimist, and his 2002 memoir, Lucky Man, were both New York Times bestsellers. Fox is currently working on a third book, titled A Funny Thing Happened on the Way to the Future: Life Lessons from a High School Dropout, to be published in the spring of 2010.
Fox established The Michael J. Fox Foundation for Parkinson's Research in 2000 to raise research funding and awareness for Parkinson's disease. The organization is dedicated to finding a cure for Parkinson's disease through an aggressively funded research agenda and to ensuring the development of improved therapies for those living with Parkinson's today. Additional information about the Foundation is available here.
Each year the NAB Distinguished Service Award recognizes members of the broadcast community who have made significant and lasting contributions to the broadcasting industry. Previous award recipients include Mary Tyler Moore, President Ronald Reagan, Edward R. Murrow, Bob Hope, Walter Cronkite, Oprah Winfrey and Charles Osgood, among others.
About the 2010 NAB Show
The NAB Show will take place 10-15 April, 2010 in Las Vegas (exhibits open 12 April). It is the world's largest electronic media show covering filmed entertainment and the development, management and delivery of content across all mediums. Complete details are available at www.nabshow.com.
News media registration will soon be available for reporters interested in covering the NAB Show.
About NAB
The National Association of Broadcasters is the premier advocacy association for America's broadcasters. NAB advances radio and television interests in legislative, regulatory and public affairs. Through advocacy, education and innovation, NAB enables broadcasters to best serve their communities, strengthen their businesses and seize new opportunities in the digital age. Learn more at www.nab.org.
###