FOR IMMEDIATE RELEASE
June 25, 2009
Fox Business Network's Alexis Glick to Keynote NAB Radio Show Luncheon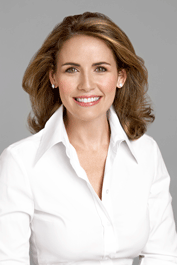 Download hi-resolution photo of Alexis Glick
WASHINGTON, DC -- Fox Business Network (FBN) anchor and vice president of business news Alexis Glick will deliver the keynote address during The NAB Radio Show Luncheon held Friday, September 25 in Philadelphia. Glick's keynote will focus on the current business climate and the state of the economy.
As previously announced, the luncheon, sponsored by ASCAP, will also include the presentation of the National Radio Award, given this year to Ed Christian, president, chief executive officer and chairman of Saga Communications.
Glick joined FOX News as the Director of Business News in the fall of 2006 and was named vice president of business news in September 2007. Glick is also the anchor for the Fox Business Network programs "Money for Breakfast" and "Opening Bell." Previously, Glick was a correspondent for NBC's "The Today Show," where she co-anchored the third hour of the program. Prior to joining NBC she was the senior trading correspondent for CNBC, reporting from the floor of the New York Stock Exchange for CNBC's "Squawk Box." While at CNBC, Glick also contributed to "Street Signs" and "Closing Bell."
Glick began her career as an analyst at Goldman Sachs before becoming the Executive Director at Morgan Stanley, where she headed the New York Stock Exchange Floor Operations. She is a graduate of Columbia University and currently serves as a member of the Board of Directors of the College Alumni Association.
About The NAB Radio Show
The NAB Radio Show is the largest annual convention for radio. This year's show, Sep. 23-25 in Philadelphia, delivers a one-of-a-kind networking opportunity for station professionals representing all format and market sizes.
Online registration for news media interested in covering The NAB Show will open July 6.
About NAB
The National Association of Broadcasters is the premier advocacy association for America's broadcasters. As the voice of more than 8,300 radio and television stations, NAB advances their interests in legislative, regulatory and public affairs. Through advocacy, education and innovation, NAB enables broadcasters to best serve their communities, strengthen their businesses and seize new opportunities in the digital age. Learn more at www.nab.org.