FOR IMMEDIATE RELEASE
March 10, 2009
NAB Ad: Performance Tax Would Make Radio Airplay Charts a Quick Read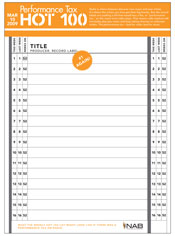 Performance Tax Hot 100 (PDF)
WASHINGTON, DC -- NAB is running a new print advertisement that highlights the impact a new fee, or "performance tax," would have on the music local radio stations play. In an ad placed today in Capitol Hill publications POLITICO and Congress Daily, the NAB ad features the "Performance Tax Hot 100" chart, which contains no music.
"Radio is where listeners discover new music and new artists. It's where the artists you love got their big breaks. But the record labels are pushing a bill that would levy a fee, or 'performance tax,' on the music local radio plays. That means radio stations will inevitably play less music and stop taking chances on unknown artists. The performance tax; bad for radio, bad for music," the ad reads.
The ad coincides with a hearing in today's House Judiciary Committee, where legislation supported by the Recording Industry Association of America (RIAA) is being considered. The bill would require America's local radio stations to pay a new fee for music aired free to listeners. Countering the RIAA-backed bill is the Local Radio Freedom Act, a bipartisan House resolution that expressly opposes "any new performance fee, tax, royalty, or other charge" on radio for music airplay. The Local Radio Freedom Act currently enjoys 144 co-sponsors.
About NAB
The National Association of Broadcasters is the premier advocacy association for America's broadcasters. As the voice of more than 8,300 radio and television stations, NAB advances their interests in legislative, regulatory and public affairs. Through advocacy, education and innovation, NAB enables broadcasters to best serve their communities, strengthen their businesses and seize new opportunities in the digital age. Learn more at www.nab.org.
###