FOR IMMEDIATE RELEASE
February 4, 2009
Bob Newhart to be Inducted into NAB Broadcasting Hall of Fame
--Legendary Comedian and Actor to be Honored at the 2009 NAB Show in Las Vegas--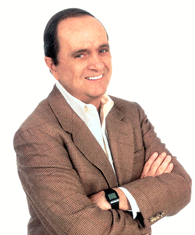 Click here for a high-resolution photo of Bob Newhart
WASHINGTON, DC – Bob Newhart, the iconic comedian-actor renowned for widely-acclaimed sitcoms including The Bob Newhart Show and Newhart, will be inducted into the NAB Broadcasting Hall of Fame during the NAB Show Television Luncheon on Monday, April 20, in Las Vegas. The award will be presented by NAB President and CEO David K. Rehr.
"Bob is a cultural icon who has entertained millions of Americans both on and off the camera for more than five decades," said Rehr. "His legendary accomplishments in broadcasting and film have set the tone for a generation of TV shows, inspired entertainers across the industry, and thrilled audiences worldwide. We are proud to honor him as he celebrates his 50th anniversary in show business in 2009."
The Bob Newhart Show, which recently marked its 35th anniversary, aired on CBS from 1972 to 1978, followed by the successful Newhart series. The show was nominated for an Emmy as "Outstanding Comedy Series" (1977), ranked as number 44 on TV Guide's 50 Greatest TV Shows of All Time (2002), and received TV Land's prestigious "Icon Award" at a gala televised ceremony (2004). The Show was also featured on Time Magazine's unranked list of "100 Best TV Shows of All-time" (2007).
Signed to a record contract by Warner Bros. in 1959, Newhart's career has spanned several successful television series, fourteen feature films, and millions of albums sold worldwide. In addition to achieving milestones in the broadcasting industry, Newhart has received multiple Grammy awards, including "Best New Artist," (1961) and "Album of the Year" (1961) for The Button-Down Mind of Bob Newhart. Newhart's first book, "I Shouldn't Even Be Doing This," was a New York Times bestseller and was nominated for a 2006 Grammy award for the spoken word version of the book.
Newhart is a recipient of many honors, including induction into the Academy of Television Arts and Sciences Hall of Fame, the prestigious "Mark Twain Prize for American Humor" presented by the Kennedy Center, and a designation as an "American Master" by PBS. In 2004, Newhart was listed as number 14 on "Comedy Central Presents: 100 Greatest Stand-Ups of All Time." Among Newhart's favorite honors is his selection as Grand Marshall of the 102nd Tournament of Roses Parade.
Previous NAB Broadcasting Hall of Fame television inductees include Bob Barker, NBC's Meet the Press, Regis Philbin, The Tonight Show, Saturday Night Live, Ted Koppel, M*A*S*H, 60 Minutes, The Today Show and Star Trek, among others.
About the 2009 NAB Show
The NAB Show will take place April 18 - 23, 2009 in Las Vegas (exhibits open April 20). It is the world's largest electronic media show covering filmed entertainment and the development, management and delivery of content across all mediums. Complete details are available at www.nabshow.com. Online registration is now available for news media reporters interested in covering the NAB Show.
About NAB
The National Association of Broadcasters is the premier advocacy association for America's broadcasters. As the voice of more than 8,300 radio and television stations, NAB advances their interests in legislative, regulatory and public affairs. Through advocacy, education and innovation, NAB enables broadcasters to best serve their communities, strengthen their businesses and seize new opportunities in the digital age. Learn more at www.nab.org.
###