FOR IMMEDIATE RELEASE
December 11, 2008
Vin Scully to be Inducted into NAB Broadcasting Hall of Fame
--Renowned sportscaster to receive award during NAB Show Radio Luncheon--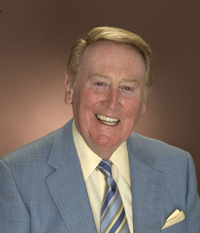 Click here for a high-resolution photo of Vin Scully
WASHINGTON, DC – Vin Scully, one of the most celebrated sportscasters in history, will be inducted into the NAB Broadcasting Hall of Fame during the NAB Show Radio Luncheon sponsored by ASCAP. The luncheon, held Tuesday, April 21, will also feature the annual presentation of the prestigious NAB Crystal Radio Awards.
"For nearly 60 years, Vin Scully has entertained fans with his vivid play-by-plays and passion for baseball," said NAB Executive Vice President of Radio John David. "We look forward to honoring his significant contributions to radio broadcasting during this year's Radio Luncheon."
Scully joined the Brooklyn Dodgers' broadcast team in 1950, and followed the team when they moved to Los Angeles before the start of the 1958 baseball season. As the "Voice of the Dodgers" broadcasting from their network's flagship station, KABC Radio, Scully won the distinction of being the only current broadcaster to serve 59 consecutive years on one team. In addition to his Dodger broadcasts, Scully has called play-by-plays for a total of 25 World Series and 12 All-Star Games.
Hailed as the poet laureate of baseball by USA Today and the best of the century in Los Angeles sports broadcasting by the Long Beach Press-Telegram, Scully has captivated listeners for years with his lively delivery. In 1976, Dodger fans named him the Most Memorable Personality in L.A. Dodger history. Scully was also named baseball's all-time best broadcaster in Curt Smith's "Voices of Summer," and was voted the top sportscaster of the 20th century by more than 500 national members of the American Sportscasters Association (ASA). In 1982, Scully was inducted into the Broadcaster's wing of the National Baseball Hall of Fame as the Ford C. Frick Award recipient.
About the 2009 NAB Show
The NAB Show will take place April 18 - 23, 2009 in Las Vegas (exhibits open April 20). It is the world's largest electronic media show covering filmed entertainment and the development, management and delivery of content across all mediums. Complete details are available at www.nabshow.com. Online registration will soon be available for news media reporters interested in covering the NAB Show.
About NAB
The National Association of Broadcasters is the premier advocacy association for America's broadcasters. As the voice of more than 8,300 radio and television stations, NAB advances their interests in legislative, regulatory and public affairs. Through advocacy, education and innovation, NAB enables broadcasters to best serve their communities, strengthen their businesses and seize new opportunities in the digital age. Learn more at www.nab.org.
###