FOR IMMEDIATE RELEASE
December 13, 2007
Charles Osgood to be Honored with NAB Distinguished Service Award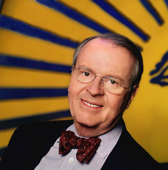 Download hi-resolution photo of Charles Osgood
WASHINGTON, DC - Charles Osgood, anchor of CBS News Sunday Morning and of CBS Radio Network's The Osgood File, will be honored with the NAB Distinguished Service Award during the NAB Show. The award will be presented during the All Industry Opening Keynote, sponsored by Accenture, Monday, April 14 in Las Vegas.
Known as CBS News' "poet-in-residence," Charles Osgood has anchored Sunday Morning, considered one television's highest quality programs, since 1994 and has been called "one of the last great broadcast writers" by his Sunday Morning predecessor, Charles Kuralt. Every week Osgood closes Sunday Morning with his signature "I'll see you on the radio," where his voice is known to millions who tune into his daily news commentary on The Osgood File on CBS Radio Networks.
"Charles Osgood has received some of the highest praise in broadcast journalism for his engaging wit and imaginative commentaries," said NAB President and CEO David K. Rehr. "We are honored to recognize him for the significant contributions he has made to the broadcasting industry."
Since joining CBS in 1971, Osgood has covered everything from breaking news to human interest stories to fine arts and culture, garnering some of the highest accolades in broadcast journalism.
Osgood has been recognized with four Emmy Awards and three George Foster Peabody Awards. His radio program, The Osgood File, has been the five-time recipient of the Washington Journalism Review's "Best in the Business Awards." In 1999, Osgood received both the Radio Mercury Award and the International Radio and Television Society Foundation (IRTS) Award for significant achievement. He also received a 1996 President's Award from the American Society of Composers, Authors and Publishers for outstanding coverage and support of music creators. In 1993, Osgood received an NAB Marconi Radio Award.
He was also the recipient of the Paul White Award, presented by the Radio-Television News Directors Association, for lifetime contribution to electronic journalism, and the Walter Cronkite Excellence in Journalism Award from Arizona State University in 2005. He was inducted into the Broadcasting and Cable Hall of Fame in 2000, as well as the National Association of Broadcasters Hall of Fame in 1990.
Before joining CBS News in September 1971, Osgood was an anchor/reporter for WCBS News Radio 88 in New York. Prior to that, he worked for ABC News, was the general manager of WHCT-TV Hartford, Conn., and the program director and manager of WGMS-FM Radio Washington, D.C.
Each year the NAB Distinguished Service Award recognizes broadcasters who have made significant and lasting contributions to the broadcasting industry. This year Charles Osgood will join the ranks of President Reagan, Edward Murrow, Bob Hope, Walter Cronkite, Oprah Winfrey and others, who've been recognized with the NAB Distinguished Service Award in past years.
About the 2008 NAB Show
The NAB Show will take place April 11 - 17, 2008 in Las Vegas (exhibits open April 14). It is the world's largest electronic media show covering the development, delivery and management of professional video and audio content across all mediums. Complete details are available at www.nabshow.com.
Online registration will soon be available for news media reporters interested in covering the NAB Show.
About NAB
The National Association of Broadcasters is a trade association that advocates on behalf of more than 8,300 free, local radio and television stations and also broadcast networks before Congress, the Federal Communications Commission and the Courts. Information about NAB can be found at www.nab.org.
###