FOR IMMEDIATE RELEASE
December 7, 2007
Pittman to Speak During the NAB Show Radio Luncheon
--MTV co-founder, former Co-COO of AOL Time Warner to keynote Radio Luncheon--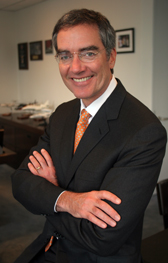 Download hi-resolution photo of Bob Pittman
WASHINGTON, DC - Robert Pittman, former Co-COO of AOL Time Warner, President and COO of America Online, Inc. and founding member of media investment firm Pilot Group LLC, will provide the keynote speech during the NAB Show Radio Luncheon, sponsored by ASCAP. The luncheon will be held on Tuesday, April 15, in Las Vegas.
"We are extremely pleased to welcome Bob Pittman to the NAB Show," said NAB Executive Vice President of Radio John David. "His extensive background and diverse media experience will provide attendees with an in-depth look at the opportunities for the radio business."
Pittman led the programming content team that created the MTV cable network and helped launch the music video industry. As CEO of MTV Networks, Pittman oversaw the growth of MTV and the expansion of the company into international markets. It was during this time that MTV Networks became the first profitable cable network group, a status that was held throughout Pittman's tenure at MTV.
In 2003, Pittman founded Pilot Group LLC, a consumer brand-focused, private investment firm based in New York. The company's investments include Double O Radio, a privately-held corporation with radio stations in several states, including New York, South Carolina, Florida, Texas and Missouri. Pilot Group also has investments in broadcast TV, various Internet products and services, a research company, and a specialty retail chain. Prior to Pilot Group, Pittman served as Co-COO of AOL Time Warner, president and chief operating officer of America Online, Inc. and President and CEO of Time Warner Enterprises. He began his career in radio at age 15, when he worked as an announcer at a Mississippi station. Pittman moved on to successfully program radio stations in Pittsburgh, Chicago, and WNBC in New York City, NBC Radio's flagship station.
Pittman has been recognized as one of the "Five Original Thinkers of the 80's" by Life Magazine, and has been inducted into the Broadcasting and Cable Hall of Fame. In 2002, Pittman received the International Radio and Television Society's Gold Medal.
The Radio Luncheon will feature the annual presentation of the prestigious NAB Crystal Radio Awards. As previously announced, legendary radio disc jockey Larry Lujack will be inducted into the NAB Broadcasting Hall of Fame.
About the NAB Show
The NAB Show will take place April 11 - 17, 2008 in Las Vegas (exhibits open April 14). It is the world's largest electronic media show covering the development, delivery and management of professional video and audio content across all mediums. Complete details are available at www.nabshow.com.
Online registration will soon be available for news media reporters interested in covering the NAB Show.
About NAB
The National Association of Broadcasters is a trade association that advocates on behalf of more than 8,300 free, local radio and television stations and also broadcast networks before Congress, the Federal Communications Commission and the Courts. Information about NAB can be found at www.nab.org.
###