FOR IMMEDIATE RELEASE
March 26, 2007
CONTACT
Dennis Wharton
202-429-5350

follow me
Anne Brady to Head NABPAC
--Former DCCC deputy finance director to oversee political action committee--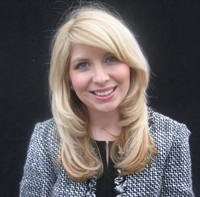 Download hi-res photo of Anne Brady
WASHINGTON, DC – Anne W. Brady, who most recently served as the deputy western finance director for the Democratic Congressional Campaign Committee, will join the National Association of Broadcasters as vice president of the association's political action committee. Brady will start on April 9 and report to NAB Executive Vice President of Government Relations Doug Wiley.
During her tenure at the DCCC, Brady headed the largest region for the Committee, managing Northern California, Washington, Arizona, New Mexico, Wyoming, Hawaii, Idaho and Montana, specifically overseeing Speaker of the House Nancy Pelosi's district.
In addition to her role in the western region, Brady previously served as the deputy finance director for the DCCC's midwestern region, where she coordinated and staffed then-House Minority Leader Pelosi and Rep. Rahm Emanuel's travel schedules to midwestern states.
Prior to her work for the DCCC, Brady served as director for the Capitol Hill Heart Health Campaign for the Sister to Sister: Everyone Has a Heart Foundation. Additionally, Brady held positions as a legal assistant at Los Angeles-based McBreen and Senior and as an intern for the Fulbright Commission in Buenos Aires, Argentina.
She earned a bachelor's degree in political science from Pepperdine University.
About NAB
The National Association of Broadcasters is a trade association that advocates on behalf of more than 8,300 free, local radio and television stations and also broadcast networks before Congress, the Federal Communications Commission and the Courts. Information about NAB can be found at www.nab.org.
###