FOR IMMEDIATE RELEASE
January 31, 2007
CONTACT
Dennis Wharton
202-429-5350

follow me
ABC's Stephanopoulos to Address NAB State Leadership Conference in Washington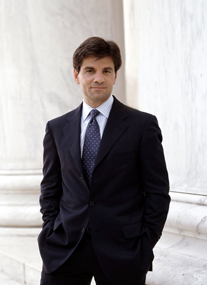 ABC News chief Washington correspondent George Stephanopoulos
WASHINGTON, DC – George Stephanopoulos, chief Washington correspondent for ABC News and anchor of ABC's Sunday morning program, This Week with George Stephanopoulos, will address several hundred broadcast representatives during the NAB State Leadership Conference on February 27.
The NAB State Leadership Conference, held February 27 - March 1 in Washington, DC, will gather hundreds of local radio and television broadcasters from across the nation to discuss legislative and regulatory issues important to broadcasting. The conference also provides each delegation the opportunity to educate Washington policymakers on broadcasters' commitment to community service and the economic and political realities of providing that critical service. Stephanopoulos will share his experiences with attendees and offer his insights on the current environment in Washington and how it may impact local broadcasters.
"As a veteran of Washington and an ambassador of broadcast television, Mr. Stephanopoulos brings a unique perspective to the NAB State Leadership Conference," said NAB President and CEO David K. Rehr.
As chief Washington correspondent, Stephanopoulos oversees ABC's coverage of Congress and reports on policy-related stories for all ABC News platforms, including World News, Nightline, Good Morning America, ABC News Now and ABCNews.com.
In his role as anchor of This Week, Stephanopoulos has interviewed every key member of the Bush administration, including President Bush, Vice President Cheney, Secretary of State Condoleezza Rice and former Defense Secretary Donald Rumsfeld. He has interviewed numerous foreign leaders, members of Congress, Supreme Court Justices and political leaders from the state and local level.
Stephanopoulos began anchoring This Week in 2002 and was named chief Washington correspondent in December 2005. Previously, he was an ABC News correspondent, reporting on a wide variety of political, domestic and international stories for various ABC News programs. He joined ABC News in 1997 as a news analyst for This Week.
Prior to joining ABC News, Stephanopoulos served in the Clinton administration as the senior advisor to the president for policy and strategy. He is the author of All Too Human, a number one New York Times best-seller on President Clinton's first term and the 1992 and 1996 Clinton/Gore campaigns.
About NAB
The National Association of Broadcasters is a trade association that advocates on behalf of more than 8,300 free, local radio and television stations and also broadcast networks before Congress, the Federal Communications Commission and the Courts. Information about NAB can be found at www.nab.org.
###