FOR IMMEDIATE RELEASE
January 25, 2007
CONTACT
Dennis Wharton
202-429-5350

follow me
Michael Williams Named NAB CFO
--Former MPAA and RIAA Financial Officer Tapped to Start January 29--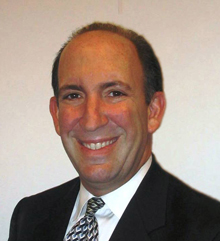 NAB Chief Financial Officer Mike Williams
WASHINGTON, DC – Michael S. Williams has been named chief financial officer and executive vice president, finance and operations at the National Association of Broadcasters, NAB President and CEO David Rehr announced today.
Williams, 46, starts at the broadcast trade association on January 29. He was selected following an extensive search process conducted by the search firm SpencerStuart.
Williams has held top financial positions at several multi-million dollar organizations, including executive vice president at the Motion Picture Association of America and executive vice president, finance and operations at the Recording Industry Association of America. During his nine-year tenure at RIAA, Williams helped create SoundExchange, a business that represents tens of thousands of recording artists and a number of record companies focused on accurate distribution of copyright royalty payments.
Williams began his career as a CPA, working at both Arthur Andersen & Co. and at Ernst & Young.
A native of Bethesda, Md., Williams is a CPA and holds a bachelor's degree in Accounting from the University of Maryland. Williams lives in Bethesda with his wife and four children.
About NAB
The National Association of Broadcasters is a trade association that advocates on behalf of more than 8,300 free, local radio and television stations and also broadcast networks before Congress, the Federal Communications Commission and the Courts. Information about NAB can be found at www.nab.org.
###