FOR IMMEDIATE RELEASE
January 17, 2007
CONTACT
Dennis Wharton
202-429-5350

follow me
NAB's Khatcherssian Wins National Aegis Award
-- Hurricane Katrina "Tribute to Gulf Coast Broadcasters" wins in documentary category --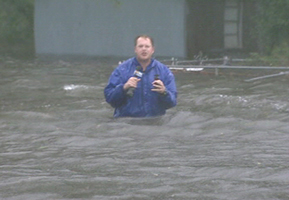 Reporter Jeff Barker from WALA-TV Mobile, Ala. (LIN Television, Fox affiliate).
WASHINGTON, DC – The National Association of Broadcasters has won a 2006 Aegis Award for its video, "A Tribute to Gulf Coast Broadcasters," which was featured during the 2006 NAB Education Foundation Service to America Awards. The Aegis Awards are the video industry's premier competition for peer recognition of outstanding video productions and non-network TV commercials.
NAB's video, produced and edited by NAB Audio Video Production Unit Manager Michael Khatcheressian, recognizes the tremendous efforts showcased by both local radio and television broadcasters during Hurricane Katrina.
"Michael's video captured the essence of the critical life-saving role provided by local broadcasters along the Gulf Coast," said NAB President and CEO David K. Rehr. "Employees lost homes and waded through alligator-infested waters to keep their signal on the air and their communities informed. This video salutes these broadcasters for their heroic service and dedication in response to the worst natural disaster in our nation's history."
About NABEF
The NAB Education Foundation is a non-profit organization dedicated to serving the public interest in supporting and advocating: education and training programs, strategies to increase diversity, initiatives stressing the importance of the First Amendment, community service, philanthropy and other timely broadcasting issues.
About NAB
The National Association of Broadcasters is a trade association that advocates on behalf of more than 8,300 free, local radio and television stations and also broadcast networks before Congress, the Federal Communications Commission and the Courts. Information about NAB can be found at www.nab.org.
###