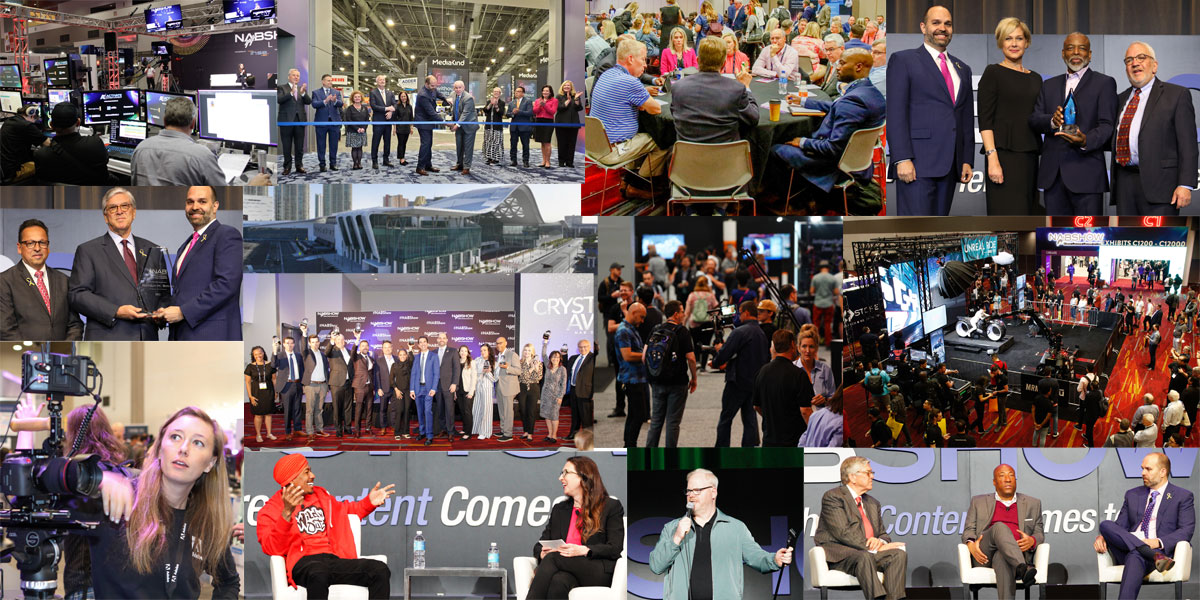 Empowering Stories Everywhere
NAB Show
NAB Show drew over 53,000 attendees to Las Vegas in April. The ever-evolving broadcast, media and entertainment industry combined with a new West Hall at the Las Vegas Convention Center represented an opportunity to reimagine the organization of the show floor. Four carefully curated collections were introduced:
Create – pre-production to post
Connect – distribution and delivery
Capitalize – reach and ROI
Intelligent Content – data, AI and automation
Each area featured destinations exploring the inspiration, innovation and implementation through theater presentations, hand-on demos and networking.
Radio and television broadcasters enjoyed an unparalleled lineup of over 60 customized sessions, events and networking opportunities covering the trends in 5G, in-vehicle infotainment, fan engagement strategies, reaching new audiences, use of AI, leveraging data and analytics to inform business decisions, and more.
Highlights included NAB President and CEO Curtis LeGeyt delivering his first state of the industry address, dedicated programming in the Broadcast Engineering and IT Conference, the NAB Diversity Symposium, the Focus on Leadership Speaker Series and the Small and Medium Market Radio Forum. More than 900 companies exhibited on the show floor including key destinations: ATSC 3.0 Pavilion, Futures Park, IP Showcase and NextGen Now.
Awards

Broadcasting Hall of Fame inductees

Radio: Jim Bohannon, host of Westwood One's nationally syndicated radio talk show, "The Jim Bohannon Show"
Television: "The Price is Right," iconic game show

Distinguished Service Award honoree – Former NAB President and CEO Gordon H. Smith
Digital Leadership Award – Jeremy Sinon, vice president of Digital Strategy for Hubbard Radio
Radio Engineering Achievement Award – Ashruf El-Dinary, senior vice president, Digital Platforms, Xperi Corporation
Television Engineering Achievement Award – Peter Sockett, director, Engineering and Operations, Capitol Broadcasting Company's television stations
Library of American Broadcasting first annual Insight Award – LeVar Burton, actor, director and educator

Featured Speakers

Cody Rigsby, social media star and fitness instructor
Byron Allen, media entrepreneur
FCC Chairwoman Jessica Rosenworcel
Fireside chat with award-winning journalist and host of "Banfield" on NewsNation Ashleigh Banfield and "NBC Nightly News" anchor and managing editor Lester Holt
Stephen J. Dubner and Dr. Steven Levitt, co-authors of "Freakonomics"
Jim Gaffigan, comedian
NAB Show Fast Facts:
53,562 total registrants
30% of registrations representing 140+ countries outside the U.S.
940 exhibiting companies
861 members of the press
The 2023 NAB Show, April 15-19, will celebrate the event's centennial.