2015 Radio Show Highlights Webcast: Manage Like a Leader
Overview
Available on-demand December 16 at 11 a.m. eastern – Approximate runtime: 30 minutes
Are you leading your team or managing them? Tips for motivating your staff, ensuring successful communication with millennials and understanding today's radio employees were some of the most popular takeaways from the 2015 Radio Show.
If you missed the Show, or just need a refresher, grab your lunch and tune in for this brief on-demand webcast. Your team is counting on you. Learn from the pros how to lead them to greater success and cultivate a winning strategy.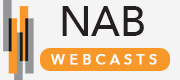 WEBCAST LOG IN
If you have already registered for the webcasts, click the button below to log in.
LOG IN TO VIEW WEBCAST
TECHNICAL INFORMATION
NAB makes every effort to deliver high quality streaming video. There are some cases where the stream may not work and you will experience buffering issues. If you experience such issues, click here for technical troubleshooting tips.
It is strongly recommended that participants attempt to log in to the webcast at least 15 to 30 minutes prior to the webcast to test your connection.
For further technical assistance, please contact (202) 775-3510 or jmiely@nab.org.