NAB Virtual Academy for Radio: Big Ideas for Small Markets Schedule
All webcasts are presented LIVE from 2-3 p.m. Eastern Time.
Powerfully Engage and Grow Your Audience by Mastering Social Media
ARCHIVED WEBCAST - October 2, 2012
Click here to access the archived webcast.
Valerie Geller, President, Geller Media International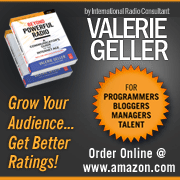 Are you using social media? Are you taking advantage of all the ways to fully engage with your audience? By successfully implementing this powerful "extra canvas" you'll engage more powerfully with your listeners and grow your audience! Social media expert and international broadcast consultant Valerie Geller shares low-cost, high-return social media tips expressly for small market radio, which, when done effectively, will result in greater audience engagement, ratings growth and advertiser response.
As an added bonus, this webcast features opening remarks by Doug Stephan, host of the network syndicated morning show Doug Stephan's Good Day!
---
Tips to Recruit and Retain the Best
ARCHIVED WEBCAST - November 15, 2012
Click here to access the archived webcast.
Laurie Kahn, President and CEO, Media Staffing Network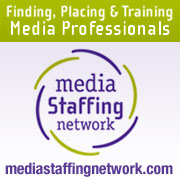 Are you having issues making your budgets? Do you feel that your current staff is not doing the job? Finding it difficult to recruit, attract and hire in your market/markets? During this one-hour webcast, Media Staffing Network's Laurie Kahn will offer insight and tips for small market broadcasters on how to build a staff that will help you grow revenue and manage your properties effectively, including how to compete with other local employers to find and hire top quality people.
As an added bonus this webcast features opening remarks by Commonwealth Broadcasting Corporation's President and CEO and National Association of Broadcasters Immediate Past Joint Board Chair, Steve Newberry.
---
Ten Ways to Master Managing Multiple Stations
ARCHIVED WEBCAST - February 12, 2013
Click here to access the archived webcast.
Moderator
John David, Executive Vice President, Radio, NAB
Panelists
Pete Booker, President and CEO, Delmarva Broadcasting Company
Mike Hulvey, Chief Operating Officer, Neuhoff Communications
From what's heard on air to what's done behind the scenes, radio station owners and operators are consistently seeking management strategies that allow them to operate efficiently and effectively. Hear practical cluster management principles from three premiere small market group executives with decades of hands on experience. Covering organizational effectiveness, compensation structures, programming staffing principles, general communication strategies and cost-cutting measures, this webcast is for any small market manager looking for new and inventive ways to run their station or department more efficiently. The panel will also be taking questions from viewers throughout the live webcast.
---