2015 Radio Show Highlights Webcast: Manage Like a Leader
Schedule
Here's a chance to see quick bites of some of the great sessions from the 2015 Radio Show produced by NAB and RAB. Learn how to build reciprocity with millennial employees, pinpoint behaviors of likely Radio survey respondents and understand how today's Radio employees want to be managed.
Speakers:
Katie Gambill, president and general manager, 5 Star Radio Group 
Tim Clarke, senior director, Digital Audience - Radio, Cox Media Group 
Kim Guthrie, executive vice president, National Ad Platforms; president, Cox Reps, Cox Media Group 
Andrew Harby, local sales manager, Neuhoff Media 
Mike Hulvey, executive vice president and chief operating officer, Neuhoff Communications 
Presenters:
Leigh Jacobs, vice president, Research Analysis, NuVooDoo Media
Laurie Kahn, president and founder, Media Staffing Network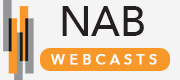 WEBCAST LOG IN
If you have already registered for the webcasts, click the button below to log in.
LOG IN TO VIEW WEBCAST
TECHNICAL INFORMATION
NAB makes every effort to deliver high quality streaming video. There are some cases where the stream may not work and you will experience buffering issues. If you experience such issues, click here for technical troubleshooting tips.
It is strongly recommended that participants attempt to log in to the webcast at least 15 to 30 minutes prior to the webcast to test your connection.
For further technical assistance, please contact (202) 775-3510 or jmiely@nab.org.