Small Market Television Exchange Delivers More Than $5 Million in Ideas
The 2017 Small Market Television Exchange (SMTE) showcased exciting speakers, including Dr. Oz, Local Media Association's Jack Zavoral and John Hannon from Jim Doyle & Associates, who presented fresh and innovative sales and marketing ideas during an action-packed three days. Breakout sessions delivered more than $5 million in revenue generating and money saving ideas. The Money Makers Competition delivered an additional $700,000 in sales promotion ideas. SMTE is a one-of-a-kind event that consistently delivers ROI for attendees by arming them with new sales management and revenue generating ideas to take back to their stations.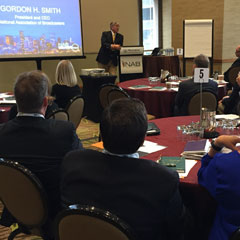 Small Market Group Roundtable
The 2017 Small Market Group Roundtable brought together owners and operators of small market stations for an afternoon of discussion regarding the specific implications of legislation, policy and technology within their local markets. The agenda featured updates on activity at the FCC and in Congress, as well as presentations on the station repack, audience measurement and Next Gen TV. Through individual table topic discussions, the Roundtable also provides a unique peer-to-peer opportunity to share ideas and best practices. This year's discussion topics included OTT, Next-Gen and monetizing social, among others.