Voluntary Spectrum Incentive Auction Should Not Harm Broadcasters
Additional Resources
---
Click Here to Read the FCC's Notice of Proposed Rulemaking
Click Here to visit NAB's Spectrum Auctions microsite for broadcasters.
---
Print Ad Gallery
NAB is working to ensure that any change to spectrum policy going forward does not limit consumer access to the full potential of digital broadcasting. Click the images below to view and download high-resolution PDF advertisements that remind policymakers that broadcasting and broadband are both important aspects of America's communications system that are not mutually exclusive. This ad can be used by stations to help advocate this issue on their websites or other forums.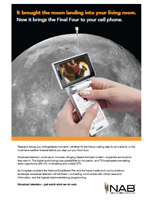 ---
Click here
for a printable issue sheet on spectrum management.
Revenues from a Possible Spectrum Incentive Auction: Why the CTIA/CEA Estimate is Not Reliable
National Broadband Plan
National Broadban Plan Executive Summary
Written Testimony
of Gordon Smith before Senate Committee on Small Business and Entrepreneurship, April 27, 2010