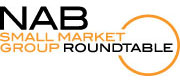 Small Market Group Roundtable
The Small Market Television Group Roundtable is an invitation-only event for broadcast owners and executives who are responsible for overseeing operations and the financial success of the group and stations. Specifically, this includes Owners, CEOs, Presidents, COOs and Chief Financial Officers.
For more information, contact Carolyn Wilkins.