FOR IMMEDIATE RELEASE
July 8, 2009
Brian McKnight to Perform at NAB Marconi Radio Awards Dinner & Show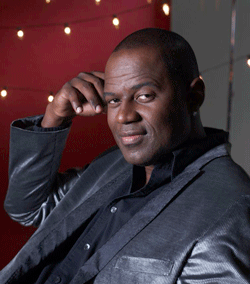 Download hi-resolution photo of Brian McKnight
WASHINGTON, DC -- The NAB Radio Show will feature a live performance by Brian McKnight, renowned R&B artist and host of Citadel Media Networks? "The Brian McKnight Show." The performance will take place during the NAB Marconi Radio Awards Dinner & Show on Thursday, September 24.
"Brian McKnight is a man of remarkable talents who has the unique ability to reach millions of fans as both a musician and celebrated radio host," said NAB Executive Vice President of Radio John David. "We are looking forward to an outstanding performance during the NAB Marconi Radio Awards Show."
McKnight has received 16 Grammy nominations and sold more than 20 million albums worldwide. An accomplished singer, songwriter and instrumentalist, McKnight has released 11 albums, seven of which have gone platinum. He is the recipient of numerous awards, including Billboard?s Songwriter of the Year, Favorite Male R&B/Soul Artist at the American Music Awards, Outstanding Male Artist at the NAACP Image Awards and Soul Train?s Best Album of the Year.
In addition to his accomplishments as a recording artist, McKnight has received recognition as a talented and engaging broadcaster and performer. Along with hosting the Citadel Media syndicated program "The Brian McKnight Show," McKnight hosts "Soul Session Countdown with Brian McKnight" on BETJ and also serves as the host of "The Brian McKnight Morning Show" on KTWV-FM Los Angeles. His musical talents were taken to the theater in the 2005 production of Cheaters and the 2007 production of Chicago, where McKnight excelled as the starring male lead Billy Flynn. McKnight has also appeared as the red carpet host for "Extra!" and recently participated in the second season of NBC?s "Celebrity Apprentice." Additionally, the Brian McKnight TV show is slated to begin in syndication in mid September.

Established in 1989 and named after inventor and Nobel Prize winner Guglielmo Marconi, the NAB Marconi Radio Awards are given to radio stations and outstanding on-air personalities to recognize excellence in radio. Winners will be announced at the NAB Marconi Radio Awards Dinner & Show at the Pennsylvania Convention Center.

About The NAB Radio Show
The NAB Radio Show is the largest annual convention for radio. This year?s show, Sep. 23-25 in Philadelphia, delivers a one-of-a-kind networking opportunity for station professionals representing all format and market sizes.

About NAB
The National Association of Broadcasters is the premier advocacy association for America?s broadcasters. As the voice of more than 8,300 radio and television stations, NAB advances their interests in legislative, regulatory and public affairs. Through advocacy, education and innovation, NAB enables broadcasters to best serve their communities, strengthen their businesses and seize new opportunities in the digital age. Learn more at www.nab.org.