FOR IMMEDIATE RELEASE
April 7, 2009
NAB Launches NoPerformanceTax.org
--Web Site Boasts Advocacy Resources for Radio Stations, Information for Listeners--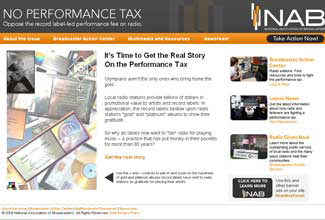 WASHINGTON, DC -- The National Association of Broadcasters today unveiled a new grassroots Web site, www.NoPerformanceTax.org, which will serve as the organization's newest advocacy tool in its effort to thwart a record-label led effort to charge radio stations a new fee for music aired free to listeners.
Among its resources, the grassroots Web site gives radio stations the ability to download, air and share radio spots opposing a performance tax, as well as an array of online banner ads for use on station Web sites and sample letters to members of Congress. The site also provides users with background information on the performance tax issue, video clips from Congressional hearings and Capitol Hill events, NAB news releases, and news media coverage of the performance tax issue.
"This is a multifaceted resource that our members can use to educate lawmakers and listeners on the dire consequences of a performance tax that threatens the very survival of free, local radio," said NAB Executive Vice President Dennis Wharton. "On behalf of our 235 million weekly radio listeners, NAB urges member stations to take advantage of this new Web site and stand united against a cynical money-grab by the foreign-owned record labels."
The front page of the new Web site boasts an interactive graphic made up of hundreds of gold and platinum albums on display in local radio stations across America. The gold and platinum albums are customarily presented by record labels to local radio stations as a sign of appreciation for promoting their music and propelling album sales.
"Olympians aren't the only ones who bring home the gold," the Web site tells visitors. "Local radio stations provide billions of dollars in promotional value to artists and record labels. In appreciation, the record labels bestow upon radio stations 'gold' and 'platinum' albums to show their gratitude."

Station personnel needing a log-in to access material in the Broadcaster Action Center area of the Web site should contact Maureen Walker at mwalker@nab.org.
The new Web site can be viewed online at www.NoPerformanceTax.org.
About NAB
The National Association of Broadcasters is the premier advocacy association for America's broadcasters. As the voice of more than 8,300 radio and television stations, NAB advances their interests in legislative, regulatory and public affairs. Through advocacy, education and innovation, NAB enables broadcasters to best serve their communities, strengthen their businesses and seize new opportunities in the digital age. Learn more at www.nab.org.