FOR IMMEDIATE RELEASE
March 16, 2009
NAB Honors Seven-Time Emmy Winner Mary Tyler Moore with Distinguished Service Award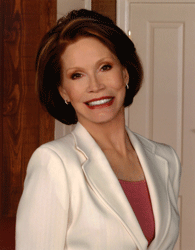 Download hi-resolution photo of Mary Tyler Moore
WASHINGTON, DC -- Seven-time Emmy Award winning actress Mary Tyler Moore will be honored with the NAB Distinguished Service Award during the NAB Show. The award will be presented during the All Industry Opening Keynote, sponsored by Accenture, Monday, April 20 in Las Vegas. Moore starred in two of the most highly regarded and popular comedies in television history - The Dick Van Dyke Show and The Mary Tyler Moore Show, which aired first-run for most of the 1960s and 1970s.

In The Dick Van Dyke Show (1961), Moore played Laura Petrie, the endearing wife of star Dick Van Dyke. The show became famous for its clever writing and terrific comic ensemble. Moore's outstanding performance on this series won her Emmys in 1964 and 1966.

Perhaps best known for The Mary Tyler Moore Show (1970-1977), Moore starred as Mary Richards, a single thirty-something woman who worked as a news producer at WJM-TV in Minneapolis. The show was a commercial and critical success and during its seven-year run as part of CBS television's unbeatable Saturday night line-up, garnered 29 Emmys including four for its star. It was also one of the earliest TV portrayals of a successful independent woman.

"Mary Tyler Moore is a television icon who not only entertained millions of Americans week after week with her quick humor and amazing talent, but inspired many women of her generation to pursue careers in broadcasting, journalism and related fields," said NAB President and CEO David Rehr. "We are proud to honor her with our Distinguished Service Award for the tremendous impact she's had on broadcasting and for her many years of public service."

Moore has appeared in various films over the years including Ordinary People in 1980 for which she earned an Academy Award nomination. She also acted on Broadway, winning a Tony Award for her performance in Whose Life Is It Anyway?

Moore is the International Chairman of the Juvenile Diabetes Research Foundation (JDRF). She was honored in 2007 with the JDRF "Humanitarian of the Year" Award. She is also active in numerous animal welfare organizations and funds scholarship programs in the arts and academics.

Moore's book "Growing Up Again: Life, Loves, and Oh Yeah, Diabetes" will be released next month by St. Martin's Press. The book is an inspiring, revealing and life-affirming memoir of her experiences with type-one diabetes over the past 40 years. All of Moore's proceeds for the book will be donated to the Juvenile Diabetes Research Foundation.

Each year the NAB Distinguished Service Award recognizes broadcasters who have made significant and lasting contributions to the broadcasting industry. This year Mary Tyler Moore will join the ranks of President Reagan, Edward R. Murrow, Bob Hope, Walter Cronkite, Oprah Winfrey, Charles Osgood and others who've been recognized with the NAB Distinguished Service Award in past years.


About the 2009 NAB Show
The NAB Show will take place April 18 - 23, 2009 in Las Vegas (exhibits open April 20). It is the world's largest electronic media show covering filmed entertainment and the development, management and delivery of content across all mediums. Complete details are available at www.nabshow.com.

Online registration is now available for news media reporters interested in covering the NAB Show.

About NAB
The National Association of Broadcasters is the premier advocacy association for America's broadcasters. As the voice of more than 8,300 radio and television stations, NAB advances their interests in legislative, regulatory and public affairs. Through advocacy, education and innovation, NAB enables broadcasters to best serve their communities, strengthen their businesses and seize new opportunities in the digital age. Learn more at www.nab.org.
###