FOR IMMEDIATE RELEASE
February 25, 2009
CONTACT
Dennis Wharton
202-429-5350

follow me
Oral Testimony of James Yager Before Senate Judiciary Committee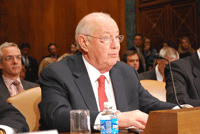 NAB Television Board Chairman James Yager, CEO of Barrington Broadcasting Grouptestifies before the Senate Judiciary Committee.
Click image for hi-res photo.
WASHINGTON, DC -- NAB Television Board Chairman James Yager, CEO of Barrington Broadcasting Group, testified today in a hearing before the Senate Judiciary Committee. The oversight hearing was entitled "Ensuring Television Carriage in the Digital Age."
Following is a transcript of Yager's oral testimony as prepared:
Chairman Leahy, Ranking Member Specter, and members of the Committee, thank you very much for having me here today. My name is Jim Yager and I am the CEO of Barrington Broadcasting which owns and operates 21 television stations in 15 small to mid-sized television markets. I am also the Chairman of the Television Board of the National Association of Broadcasters.
Ever since Congress crafted the original Satellite Home Viewer Act of 1988 it has worked to further two objectives. First, that free over-the-air television will remain widely available to American households. Second, that satellite retransmissions will not jeopardize local television service. Those two goals remain paramount today.
Our Barrington stations keep our communities informed and connected. We work every day to embody the spirit of localism, which Congress has affirmed time and time again as a vital public policy goal. We do not charge our viewers to watch our programming; we rely on payments from advertisers to deliver a free service to your constituents. Without free, over-the-air television cable and satellite companies would essentially be unrestrained in their ability to charge subscribers even higher prices.
Broadcast television stations remain the primary source of the most diverse and popular entertainment, news, weather, and sports programming in the country. In fact, according to data from Nielsen Media research, in the 2007-2008 television season, 488 of the top 500 primetime television programs were broadcast on over-the-air television. While these stations represent a relatively small number of channels of those on cable and satellite systems, broadcast stations offer a unique and valuable service to their local markets that could be diminished by unnecessary changes to the law.
As Congress considers updates to SHVERA, it is vital that you uphold and strengthen the tradition of localism. Any changes should not impair the enforcement of program market agreements that are essential to local broadcast service.
Furthermore, this Committee should strengthen localism by phasing out satellite licenses for distant signals. The license should be replaced with a requirement for local-into-local carriage in all television markets. This would enhance localism, program diversity, price competition and increase choices for viewers.
Senate Judiciary Committee Chairman Patrick Leahy (D-VT) greets NAB Television Board Chairman James Yager, CEO of Barrington Broadcasting Group. Yager testified before the Senate Judiciary Committee.
Click image for hi-res photo.
Congress should mandate "local-into-local" satellite service in every market in the Country. There are 31 of the 210 television markets in small and rural areas that the satellite companies have chosen not to serve. They have said that this is a capacity issue-- I believe it is pure and simply a business decision on the part of the satellite companies. I am certain that if Congress does not step in, the satellite companies will never provide local service to every market in the country.
Broadcasters have invested well over a billion dollars in making the transition to digital television. So far there is very little economic return on that investment for broadcasters. Nevertheless, those investments are still in the public interest. The satellite industry's investment in providing local-into-local service to all Americans would also be in the public interest.
Localism is at the forefront of broadcaster operations. In emergency situations, it is the broadcaster, not the cable or satellite companies, who is on the scene providing the public with the emergency, lifesaving, and timely information it needs. Localism is not in the DNA or business models of cable or satellite companies.
Some members of Congress have expressed frustration that their constituents do not have access to in state, but out-of-market broadcast stations. Current law allows cable and satellite systems to offer non-duplicating out-of-market programming to their subscribers. But many cable and satellite systems choose not to do so. However, Congress should not change current law to allow cable and satellite companies to offer network and syndicated programming that is identical to programming already offered by the local broadcaster with rights to that market. Doing so would be inconsistent with the long-standing principle of localism and the carefully balanced system of retransmission consent that was established by Congress to further this principle. If the retransmission consent rights of an in-market station were undercut by the importation of distant, in-state duplicating signals, the economic base for the local broadcaster's service to the public would be seriously eroded.
Thank you for giving me the opportunity to testify. I welcome any questions you may have.
* * *
About NAB The National Association of Broadcasters is the premier advocacy association for America's broadcasters. As the voice of more than 8,300 radio and television stations, NAB advances their interests in legislative, regulatory and public affairs. Through advocacy, education and innovation, NAB enables broadcasters to best serve their communities, strengthen their businesses and seize new opportunities in the digital age. Learn more at www.nab.org.