FOR IMMEDIATE RELEASE
February 19, 2009
'Coraline' Director Henry Selick to Keynote NAB Show Session
--LAIKA's Stereoscopic, 3D Animated Film 'Coraline' Generates Rave Reviews--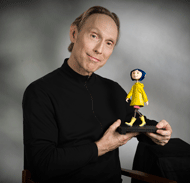 Click here for a high-resolution photo of Henry Selick
WASHINGTON, DC – Henry Selick, director of the recently released 3-D, stop-motion animated film "Coraline," will be a featured keynote speaker during the 2009 NAB Show in Las Vegas. Speaking in an afternoon keynote on Monday, April 20, Selick will offer NAB Show attendees his thoughts on how digital technology has helped to revitalize the handcrafted approach of stop-motion animation.
Distributed by Focus Features, "Coraline" offers audiences what Selick calls "a fully immersive three-dimensional movie-going experience." The first stop-motion animated feature to be shot entirely in stereoscopic 3-D, "Coraline" opened in the U.S. on February 6 to lavish critical praise and already has generated over $40M at the box office. Kenneth Turan writing for the Los Angeles Times said, "The third dimension comes of age with 'Coraline.' The first contemporary film in which the 3-D experience feels intrinsic to the story instead of a Godforsaken gimmick, 'Coraline' is a remarkable feat of imagination, a magical tale with a genuinely sinister edge."
Selick, a director, producer and stop-motion animation pioneer, is also well-known for other directorial works including "The Nightmare Before Christmas" and "James and the Giant Peach."
Selick made his feature film directing debut in 1993 with "The Nightmare Before Christmas," the first full-length, stop-motion feature from a major studio. An instant holiday classic, "Nightmare" was nominated for an Academy Award for Best Visual Effects and won the International Animated Film Society's Annie Award for Best Creative Supervision.
In 1996, Selick followed with a second feature, "James and the Giant Peach," which combines stop-motion animation with computer graphics. The film received widespread critical acclaim and won the top prize for an animated feature at the Annecy Film Festival in 1997. After joining the animation studio LAIKA in 2004, Selick directed his first computer-generated effort, the award-winning short film "Moongirl."
"Coraline," based on the international bestselling and Hugo Award-winning novella by acclaimed author Neil Gaiman, is LAIKA's first feature film. The animation studio, specializing in feature films, commercials, music videos and short films, is owned by Nike co-founder and Chairman Philip H. Knight and is based in Portland, OR.
About the 2009 NAB Show
The NAB Show will take place April 18 - 23, 2009 in Las Vegas (exhibits open April 20). It is the world's largest electronic media show covering filmed entertainment and the development, management and delivery of content across all mediums. Complete details are available at www.nabshow.com. Online registration is now available for news media reporters interested in covering the NAB Show.
About NAB
The National Association of Broadcasters is the premier advocacy association for America's broadcasters. As the voice of more than 8,300 radio and television stations, NAB advances their interests in legislative, regulatory and public affairs. Through advocacy, education and innovation, NAB enables broadcasters to best serve their communities, strengthen their businesses and seize new opportunities in the digital age. Learn more at www.nab.org.
###