FOR IMMEDIATE RELEASE
February 2, 2009
New Media Research Expert Mimi Ito to Keynote Technology Luncheon at NAB Show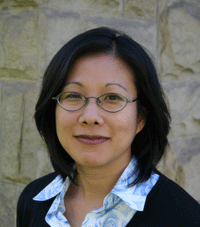 Click here for a high-resolution photo of Mimi Ito
WASHINGTON, DC – Renowned digital media research scientist Mimi Ito will keynote the NAB Show Technology Luncheon, exploring how people use new digital media and mobile technologies in their everyday lives. The Luncheon will be held Wednesday, April 22 in Las Vegas.
As a research scientist and cultural anthropologist, Ito primarily focuses on how children and young adults use communications technologies to establish and build relationships. She has studied a wide range of new media practices, from the production, distribution and marketing practices of children's software to the cultural effects of online gaming, social communities and other forms of digital media.
Ito has worked on a variety of research projects, including the recently completed study titled Kids' Informal Learning with Digital Media, a three-year project examining how new media and digital technologies change the way children learn, play, socialize and participate in everyday life. She also coordinated 24/7: A DIY (do-it-yourself) Video Summit, an Internet video event that taught amateur video makers about digital and online video production and Internet distribution.
As an author, Ito co-edited Personal, Portable, Pedestrian: Mobile Phones in Japanese Life and co-wrote Networked Publics, a study of how social networking technologies transform the way people interact in day-to-day situations. She holds two doctorates from Stanford University in education and anthropology, and is currently a research scientist at the Institute for Multimedia Literacy (University of Southern California). Prior to this position, Ito worked for the Institute for Research and Learning, Xerox PARC, Tokyo University, the National Institute for Educational Research in Japan and Apple Computer.
The Technology Luncheon will also feature the presentation of the prestigious NAB Engineering Achievement Awards. Since 1959, the awards have honored individuals who have made outstanding achievements and contributions in the broadcast engineering profession.
About the 2009 NAB Show
The NAB Show will take place April 18 - 23, 2009 in Las Vegas (exhibits open April 20). It is the world's largest electronic media show covering filmed entertainment and the development, management and delivery of content across all mediums. Complete details are available at www.nabshow.com. Online registration is now available for news media reporters interested in covering the NAB Show.
About NAB
The National Association of Broadcasters is the premier advocacy association for America's broadcasters. As the voice of more than 8,300 radio and television stations, NAB advances their interests in legislative, regulatory and public affairs. Through advocacy, education and innovation, NAB enables broadcasters to best serve their communities, strengthen their businesses and seize new opportunities in the digital age. Learn more at www.nab.org.
###