FOR IMMEDIATE RELEASE
January 26, 2009
Visionary Malcolm Gladwell to Present Keynote at NAB Show
-- Bestselling Author of "The Tipping Point" and "Outliers" Featured in "A Conversation With Malcolm Gladwell" --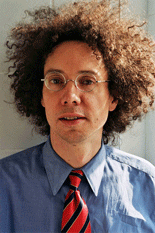 Click here for a high-resolution photo of Malcolm Gladwell
WASHINGTON, DC – Malcolm Gladwell, bestselling author of The Tipping Point, Blink, and Outliers, will present a morning keynote discussion with NAB President and CEO David K. Rehr at the 2009 NAB Show on Wednesday, April 22nd in Las Vegas. Gladwell, who was named one of Time Magazine's Most Influential People in 2005, will also engage in an interactive dialog with audience members during the thought-provoking discussion entitled, "A Conversation With Malcolm Gladwell."
"I am honored and delighted to be part of the NAB Show, and look forward to talking with attendees about the incredible opportunities for collaborative innovation and leadership in content and broadcasting," Gladwell said. "This is a very disruptive and challenging time in the industry, but I hope to share some interesting stories about people who are 'Outliers' - those who have taken unusual life experiences and worked collectively to seize opportunities and build success by challenge the status quo during uncertain times."
Gladwell has an incomparable gift for interpreting new ideas in the social sciences and making them understandable, practical and valuable to business and general audiences alike. He is the author of three New York Times #1 bestsellers, and one of the leading social scientists in the world. Gladwell is a staff writer for The New Yorker magazine and has been nominated for a National Magazine Award.
"We are proud to welcome Malcolm Gladwell to the NAB Show as one of our keynote speakers for 2009," said NAB President and CEO David K. Rehr. "Malcolm is one of the world's most visionary thinkers in the area of social science, and his insights into the qualities that create and nurture success have been used by people and organizations globally. We look forward to an illuminating conversation with Malcolm, and a very engaging interactive session between him and our attendees."
Gladwell's first book The Tipping Point, has been a BusinessWeek bestseller ever since it was published in February of 2000 and it has embedded the term in our everyday vocabulary. Like The Tipping Point, Gladwell's next book, Blink, was a New York Times #1 bestseller. Where The Tipping Point gave us new tools for understanding trends, Blink has deepened our understanding of the human mind and how we make decisions. Gladwell's most recent book, Outliers: Why Some People Succeed and Some Don't, also debut as a bestseller and promises to have an even greater impact on business and society by pointing us toward the real factors that foster success.
About the 2009 NAB Show
The NAB Show will take place April 18 - 23, 2009 in Las Vegas (exhibits open April 20). It is the world's largest electronic media show covering filmed entertainment and the development, management and delivery of content across all mediums. Complete details are available at www.nabshow.com. Online registration is now available for news media reporters interested in covering the NAB Show.
About NAB
The National Association of Broadcasters is the premier advocacy association for America's broadcasters. As the voice of more than 8,300 radio and television stations, NAB advances their interests in legislative, regulatory and public affairs. Through advocacy, education and innovation, NAB enables broadcasters to best serve their communities, strengthen their businesses and seize new opportunities in the digital age. Learn more at www.nab.org.
###