The Integrated Public Alert Warning System (IPAWS) and Next-Generation EAS
The Integrated Public Alert and Warning System (IPAWS) is the nation's next-generation infrastructure of alert and warning networks. Falling primarily within the auspices of the Federal Emergency Management Agency (FEMA, www.fema.gov), IPAWS will expand upon the existing radio and TV Emergency Alert System (EAS) by providing one message over more media to more people before, during and after a disaster. The roll-out of IPAWS is intertwined with the FCC's efforts to create a next-generation EAS, and broadcasters can expect to see progress in both areas in 2010.
An overall block diagram of IPAWS is shown below. Some of the specific goals for IPAWS include the following:
Diversify and modernize the EAS;


Create an interoperability frameword by establishing or adopting standards such as the Common Alerting Protocol (CAP; see the March 16, 2009 issue of TV TechCheck for additional information on CAP);


Enable alert and warning to those with disabillties and to those without an udnerstanding of the English language;


Provide the President, federal, state, territorial, tribal and local emergency managers access to more communication pathways to ensure alerts and warnings reach the maximum number of Americans over as many pathways as possible;


Partner with the National Oceanic and Atmospheric Administration (NOAA, www.noaa.gov) to enable seamless integration of message transmission through national networks.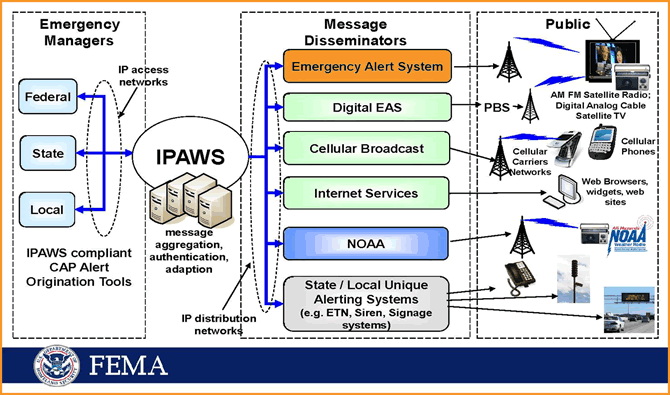 Under the FCC's current rules for EAS, there are three important changes coming which are directly tied to the development of IPAWS and will impact broadcasters. These changes were established in the FCC's 2007 Second Report and Order and Further Notice of Proposed Rulemaking on Next-Generation EAS (EB Docket 04-296; a copy of this document is available on the FCC's Web page at http://hraunfoss.fcc.gov/edocs_public/attachmatch/FCC-07-109A1.pdf). Two of these changes are tied to FEMA's "adoption" of the CAP standard which has been developed specifically for IPAWS - 180 days after FEMA adopts CAP, broadcasters will be required to do the following:
accept an alert message using a common EAS messaging protocol (namely, CAP);

transmit state and local EAS alerts that are originated by governors or their designees, provided that the state has a Commission-approved EAS state plan that provides for delivery of such alerts.

In 2009, FEMA indicated that four specific tasks need to be completed before CAP will be adopted, and anticipate that such adoption will occur in the third quarter of 2010:
1) Establish conformance lab and begin testing - this task involves certifying that the EAS equipment used by broadcasters conforms to the CAP standard. In September of this year, FEMA selected Eastern Kentucky University as the facility which will conduct these tests. A number of EAS equipment manufacturers are already selling equipment that incorporates CAP features (but this equipment has not yet been conformance tested) including SAGE Alerting Systems (SAGE Digital Endec, www.sagealertingsystems.com/products.htm), Digital Alert Systems (DASDEC, www.digitalalertsystems.com/DASDEC_intro.htm), and Trilithic (EasyCast Radio, www.trilithic.com/Emergency%20Alert%20Systems/Products/EASyCAST%20Radio/2011237102.html).
2) Develop CAP-to-EAS translation guide - a standard way for translating the CAP-formatted altering messages into the Specific Area Message Encoding (SAME) format currently used for EAS messages needs to be developed. One reason this is important is to ensure that CAP messages are rendered using SAME so that duplicate messages can be detected. This means that for a given CAP message, all EAS encoders must emit the exact same CFR 47 Part 11 "ZCZC" string. The EAS-CAP Industry Group (ECIG, www.eas-cap.org), a coalition of EAS equipment, software and service providers, developed an "EAS CAP Profile Recommendation" in 2008 which includes a section on CAP-to-EAS translation (this document is available online at www.eas-cap.org/Recommendation%20EAS-CAP-0.1.pdf). There are some CAP-to-EAS converters available (but this equipment has not yet been conformance tested) from EAS equipment vendors including TFT, Inc. (EAS 2008 CAP-to-EAS converter, www.tftinc.com/products/datasheets/EAS0613-Model%202008-Data%20Sheet-V1-4%202007-07-12.pdf), Warning Systems, Inc. (AdaptAlert EAS Activation System, www.warningsystems.com/products_activation_systems.htm), and Gorman-Redlich (CAP-to-EAS decoder system, www.gorman-redlich.com/CAP%20TO%20EAS%20decoder.htm.
3) Demonstrate delivery of federal message in CAP format to a PEP station- this is to ensure that prior to adoption of CAP that a method for delivery of a CAP formatted alert message to a primary entry point (PEP) station has been tested; and,
4) Propose and start OASIS process on IPAWS CAP security profile - this security profile task pertains to the authentication and verification of entities entitled to issue emergency alerts using IPAWS and CAP-formatted messages.
The third change resulting from the 2007 Second R&O is that EAS participants must adopt "next-generation EAS delivery systems" no later than 180 days after FEMA publicly releases standards for those systems. To date there has been little discussion on next-generation EAS delivery systems, but in 2010 it is expected that more details will emerge.
For additional information visit FEMA's IPAWS Web page at www.fema.gov/emergency/ipaws.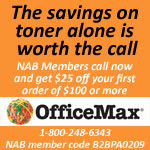 The December 21, 2009 Radio TechCheck is also available in an Adobe Acrobat file.







The December 21, 2009 TV TechCheck is also available in an Adobe Acrobat file.
Please click here to read the Adobe Acrobat version of TV TechCheck
Best Wishes for Happy Holidays and a Prosperous New Year
Radio TechCheck will return January 11, 2010