As we move into Phase 4 of the spectrum repack, there are over 110 stations scheduled to change frequencies between now and August 2, 2019. Does your creative services team know about the tools we're providing to help your station prepare your viewers?

Visit TVAnswers.org/tools for on-air and online tools, including talking points, sample scripts, automated phone messaging, suggested social media posts, social media graphics and customizable spots that instruct viewers how to rescan their TVs or converter boxes.
We can help you spread the word about your Rescan Day! Let us know the date and time you'll be moving frequencies by emailing NABMarketing@nab.org.

Working Together to Spread the Word
As over-the-air viewers across your market experience changes to their digital channels, it is important to work with other stations in your market to help spread the word and educate viewers. We encourage you to reach out to general managers in other stations in your market to spread the word about your transition date, as well to inform your own viewers about other station moves in your market. This collaboration ensures our industry continues to serve every local community by delivering the lifesaving information broadcasters provide.
You can find viewer education tools like spots, messaging and scripts for newscasts that can be customized by your team at TVAnswers.org/tools. If you need anything beyond these tools, don't hesitate to contact NABMarketing@nab.org.
Let's work together with stations in our market to ensure viewers don't lose access to their local broadcasters!

KENS5 to Viewers: Help Less Tech-Savvy Family and Friends
KENS 5 in San Antonio, Texas, is making sure no viewer gets left behind in a new video about the spectrum repack. When local weatherman Bill Taylor pops into Ethel's home to help her rescan after she loses her favorite programming, he saves the day.
And he reminds us, "Rescanning your TV channels might seem easy for some of us, but for others it may be a bit more complicated, so help your less-than-technologically-inclined friends and family reprogram their televisions."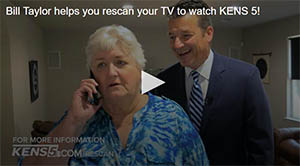 Be like Bill. Don't forget to encourage your viewers to help friends and family rescan as part of your standard messaging. You can find inspiration from KENS 5 to produce similarly engaging messages for your own viewers, or you can also contact us for more ideas at NABMarketing@nab.org.  
Weather Delays, Crew Shortages and Steel Tariffs Impacting Some Stations
Weather delays caused by severe storms in recent months, a shortage of crews and steel tariffs are impacting some stations' transitions. Prices for antennas and tower equipment are on the rise. Ongoing steel tariffs and the high demand created by the repack are driving costs up for manufacturers and those costs are getting passed on to broadcasters.
If you are experiencing problems or delays related to weather, crews or cost-prohibitive antenna equipment, make sure to notify your FCC regional coordinator, and keep us in the loop at  NABMarketing@NAB.org.
Linked Station Sets May Create Complications
Over Phases 4, 5 and 6 of the spectrum repack, nearly 300 stations will change frequencies as part of a linked station set (LSS). If your station is part of an LSS, you should have already been contacted by your FCC regional coordinator in preparation of your transition. In a linked station set, the frequency you are moving onto must be vacated by another station before you move onto it, or you need to vacate your frequency before another station can move, or both.

With some linked station sets including more than 100 stations and spanning across multiple states, engineers are tasked not only with managing their own station's transition, but with coordinating efforts across their regions to ensure viewers maintain a connection to their local stations for the news, weather and emergency information on which they rely.
Due to weather, equipment delays or difficulty scheduling tower crews, some stations within linked station sets may experience delays or be unable to meet their scheduled deadlines, causing a cascading effect on other stations in their region.
If your station is part of a linked station set and anticipates delays for any reason, contact your regional coordinator at the FCC and NAB as soon as possible.
Amazing Images of Our Tower Crews in Action
They defy heights and make our world work! Take a look as some of the incredible heights tower crews go to in order to keep our local stations on the air. These images show a new antenna being installed for KJTV-TV Lubbock as part of their frequency move. The tower is almost 1,000 feet and the antenna weighs 28,000 pounds.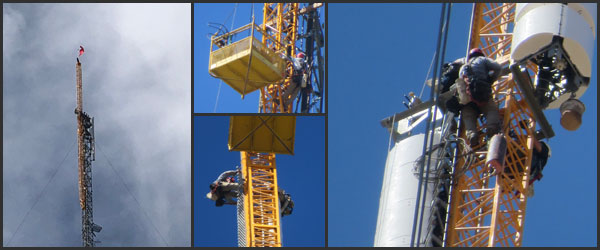 We encourage your feedback. If you have questions or information to share with NAB or other stations, please email us at NABMarketing@nab.org.

Click here to add your contact information to stay informed, and follow us on Facebook and Twitter for the latest updates. You can also connect with us using #PlanToRescan to share what you're doing to inform your audiences about rescanning.