With less than a month left of Phase 2 of the spectrum repack and more than 90 stations scheduled to change frequencies between now and April 12, viewers who watch TV for free over-the-air using an antenna will need to rescan their TVs or converter boxes to continue to receive local station programming.
Stations transitioning in Phase 2 are now within the 35-day window when consumer notifications are required by the Federal Communications Commission. To learn more about FCC requirements and best practices, download our checklist.
NAB has numerous resources to help you prepare your viewers for these changes. Visit TVAnswers.org/tools for on-air and online tools, including talking points, sample scripts, automated phone messaging, suggested social media posts, social media graphics and customizable spots that instruct viewers how to rescan their TVs or converter boxes.
We can help you spread the word about your Rescan Day! Let us know the date and time you'll be moving frequencies by emailing NABMarketing@nab.org.

What We've Learned: Handling Viewer Questions
Reno's KTVN did a particularly excellent job handling viewer queries, and their experience may help stations preparing for transitions anticipate and respond to over-the-air viewers who run into issues while rescanning their antenna televisions. To learn more about KTVN's plan of attack, we sat down with its general manager, Lawson Fox.
For how many days did you receive rescan questions?
We received questions from the time we increased our on-air campaign. The heaviest promotion effort covered the two weeks prior to the transition. Most calls subsided within a week, but we still get an occasional call today. Sometimes people turn on a lightly-used set and discover their channels are gone, or they have been travelling for a long time and come back wondering what is going on.
What did viewers need help with the most?
Working their way through the menus on their TVs or converter boxes. The viewers who could not do it on their own probably had not accessed the menus on their TV sets since they took them out of the box. And different manufacturers use different terminology. These calls are often lengthy, but with patience most can be coached through it on the phone.
For more about KTVN's experience visit our blog at blog.tvanswers.org.
And don't forget that the FCC now has a consumer hotline to answer questions related to the repack. Feel free to promote 1-888-CALLFCC (1-888-225-5322) to your viewers who may have questions or need extra help rescanning their TVs. You may also send them to TVAnswers.org for more information.
Keep Your Program Guide and Data Providers in the Loop
As you prepare to move frequencies, it's important to communicate with your data and online guide listing providers to ensure your viewers continue to have access to the correct programming information. We have heard many viewer complaints about this issue.
Online Guide Listing
Online guide listings will only be affected if your major/virtual number (the channel number you see on your TV) and minor channel numbers (subchannels such as 5.2 and 5.3) are changing.
For example, if your major/virtual channel is changing from 48 (48.1) to 24 (24.1), you need to let all data and online guide providers know so that viewers see accurate programming information on the guide.
Data Provider
The four major data providers to inform are:
Red Bee Media (formerly FYI Television)
Gracenote (formerly TMS)
Rovi (formerly TV Guide)
TV Media
It could take data providers 48 to 72 hours to update their systems depending on the day of the week and time they are informed.
Kudos to KRSU in Tulsa, Oklahoma
KRSU in Tulsa, Oklahoma, recently changed frequencies and did an excellent job of keeping their over-the-air viewers informed over social media.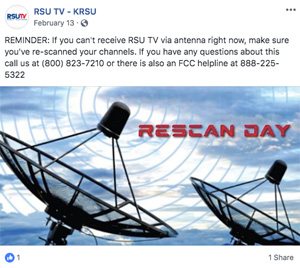 If your station is inspired to create similar visually compelling and informative instructions for your viewers, don't forget to access the messaging tools available for stations at TVAnswers.org/tools.
U.S. Black Chambers Partners with NAB to Keep African American-owned Businesses and Communities Connected
African-American communities rely more than ever on over-the-air television for local and national news, emergency alerts, community information, weather and entertainment. Today, nearly 23 percent of African-American households view local television using an antenna, as opposed to relying solely on cable or satellite service, and all of those homes will be affected when many TV stations change to new frequencies now through 2020.
It is critical that African-American business owners and viewers know when and how to rescan their antenna televisions. This is why the U.S. Black Chambers (USBC) has partnered with the National Association of Broadcasters to ensure the communities they serve are prepared.
To learn more about USBC's mission visit our blog at blog.tvanswers.org.
Spectrum Repack Among Top Issues During Broadcasters' Annual State Leadership Conference
More than 500 broadcasters from across the country gathered in Washington, D.C., February 26-27 for the NAB State Leadership Conference to learn more about the policies before Congress and to meet with their legislators on the issues that impact their businesses. The spectrum repack was among the key issues that broadcasters discussed with their legislators. Broadcasters urged legislators to ensure viewers don't lose access to local TV stations if stations can't meet their assigned deadlines due to circumstances outside of their control.
Equipment Manufacturers and Tower Crews Predict Summer Squeezes
A recent article in TVNewscheck details the problems posed for stations due to weather and equipment and tower crews' availability. There is concern that as projects are delayed due to forces outside of stations' control, it will lead to issues with the repack this summer and fall. If you are experiencing equipment or tower crew delays or other issues that may prevent you from meeting your repack deadline, we encourage you to contact your regional coordinator at the FCC. You can also contact NAB's Legal and Regulatory Affairs team at (866) 682-0276.
FCC Approves Repack Reimbursements for Low-power Stations
On Friday, the FCC approved an order to reimburse low-power stations affected by the spectrum repack. Low-power FM stations and FM translators that were licensed and transmitting on April 13, 2017, using the facilities impacted by the repacked television station are now eligible for reimbursement under the Reimbursement Expansion Act, passed by Congress in 2018. This order will ensure that millions of viewers and listeners do not lose radio and TV service during the repack.





We encourage your feedback. If you have questions or information to share with NAB or other stations, please email us at NABMarketing@nab.org.

Click here to add your contact information to stay informed, and follow us on Facebook and Twitter for the latest updates. You can also connect with us using #PlanToRescan to share what you're doing to inform your audiences about rescanning.