Phase 1 of the spectrum repack is underway with more than 80 stations scheduled to change frequencies between now and November 30. If you are one of these stations, now is the time to ensure your viewers who watch your station for free over the air using an antenna know they will need to rescan their TVs or converter boxes after your move to continue to receive your programming.  
We have numerous resources to help you prepare your viewers for these changes. Visit TVAnswers.org/tools for on-air and online tools, including talking points, sample scripts, automated phone messaging, suggested social media posts, social media graphics and customizable spots that instruct viewers how to rescan their TVs or converter boxes.
We can help you spread the word about your Rescan Day! Let us know the date and time you'll be moving frequencies by emailing NABMarketing@nab.org. If your station operates low-power TV (LPTV) stations and/or translators that are also moving frequencies, please notify us of their transition dates as well. This is very important as viewers do not differentiate between full-power and LPTV stations and many may not realize they are receiving the signal via translator.
Download New Spots Featuring Nationally-Syndicated Talent
New spots featuring nationally-syndicated celebrity talent including Alex Trebek, Pat Sajak and Vanna White, Deborah Norville, Kelly Ripa and Ryan Seacrest and Dr. Phil  are available at TVAnswers.org/tools/SyndicatedTalent. We encourage you to download these spots as another resource to help notify your viewers about an upcoming Rescan Day.
FCC Working to Adopt Rules for Additional Reimbursement Funding
In March, Congress appropriated $1 billion in additional repacking funding for television stations, FM radio stations and low-power television (LPTV) and translator stations affected by the repack. This appropriation also included funding for Federal Communications Commission (FCC) consumer education efforts regarding station frequency moves. The FCC currently has an open proceeding to develop rules governing how additional funds will be disbursed to LPTV and translator stations, as well as FM radio stations. NAB filed comments in this proceeding on September 26, encouraging the FCC to minimize disruption to viewers and listeners and treat broadcasters involuntarily affected by the repack fairly. NAB urged the Commission not to adopt the proposed sliding scale for FM radio reimbursement based on the length of time a station will be off air, as this is unduly restrictive and would have significant unintended consequences that could disproportionately impact small and rural radio station listeners. NAB also encouraged the FCC to modify their proposal to increase fairness and predictability for broadcasters and ensure funds are made available as quickly as possible. Reply comments are due by October 26.
Keep Your Program Guide and Data Providers in the Loop
As you prepare to move frequencies, it's important to communicate with your data and online guide listing providers to ensure your viewers continue to have access to the correct programming information.   
Online Guide Listing
Online guide listings will only be affected if your major/virtual number (the channel number you see on your TV) and minor channel numbers (subchannels such as 5.2 and 5.3) are changing.
For example, if your major/virtual channel is changing from 48 (48.1) to 24 (24.1), you need to let all data and online guide providers know so that viewers see accurate programming information on the guide.
Data Provider
The four major data providers to inform are:
Red Bee Media (formerly FYI Television)
Gracenote (formerly TMS)
Rovi (formerly TV Guide)
TV Media
It could take data providers 48 to 72 hours to update their systems depending on the day of the week and time they are informed.
PSIP Data Service Provider

If your station is only moving to a different frequency and the channel number that viewers know will not change, only PSIP data providers should be notified.
This should be done two weeks prior to the estimated rescan day and include the following information:
The new frequency number
Any major and/or minor channel number changes
If you're removing any subchannels
PSIP data service providers include:
TitanTV, Inc.
Gracenote (formerly TMS)
Rovi (formerly TV Guide)
Failing to work with your providers to update post-frequency change information could cause confusion for your viewers because they won't see these changes on the online programming guides and/or what is coming through on their PSIP data. 
Kudos to KDLT, Sioux Falls, South Dakota
KDLT in Sioux Falls, South Dakota, recently changed frequencies and posted a YouTube video to help make this transition easier for their viewers. The video outlined the steps viewers must take to rescan their TVs.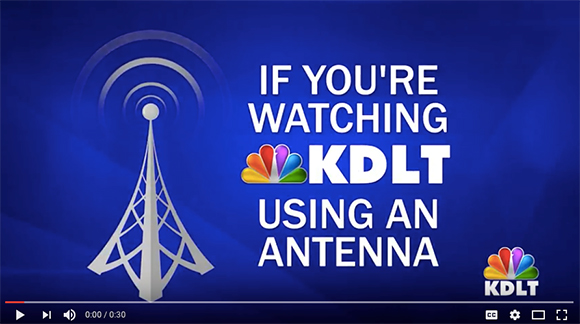 If your station is inspired to create similar visually compelling and informative instructions for your viewers, don't forget to access the messaging tools available for stations at TVAnswers.org/tools. 





We encourage your feedback. If you have questions or information to share with NAB or other stations, please email us at NABMarketing@nab.org.

Click here to add your contact information to stay informed.

Follow us on Facebook and Twitter for the latest updates and connect with us using #PlanToRescan to share what you're doing to inform your audiences about your rescan day.