Josh Pollack
Senior Vice President, Government Relations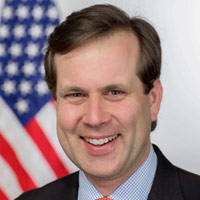 Josh Pollack currently serves as Senior Vice President, Government Relations, for the National Association of Broadcasters (NAB). Prior to joining NAB, Josh served as Special Assistant to the President for Legislative Affairs at the White House, from 2010 until January 2017. An attorney, he was President Obama's primary liaison to dozens of U.S. Senators from both parties, as well as the Senate Judiciary and Commerce Committees.
He also guided hundreds of the President's nominees through the Senate confirmation process, including nominees for the Supreme Court and Attorney General. Earlier in his career, Josh served for six years as a legislative aide to U.S. Senator Paul Sarbanes, and clerked for U.S. District Court Judge Raymond Dearie, in the Eastern District of New York. Josh also practiced law for several years in the Washington office of King & Spalding, representing public and private corporations in a variety of litigation and antitrust matters.
He graduated from Princeton University, cum laude, and received his law degree from Georgetown.He lives in Washington with his wife and two sons.