Charlyn Stanberry
Vice President, Government Relations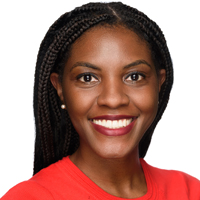 Charlyn's NAB Blog Posts
Charlyn Stanberry is the Vice President of Government Relations. She joins NAB after serving as chief of staff for Congresswoman Yvette Clarke (NY-09), for whom she previously served as legislative director and counsel. She is also an adjunct professor for Florida International University's Honors College teaching their Washington, D.C. seminar course.
Charlyn has also served as vice president of External Affairs for Net Communications, counsel for the Multicultural Media, Telecom and Internet Council and as a professional staff member for the Congressional Black Caucus. She served as a regional voter protection director in Florida for the 2016 Hillary for America Campaign.
A member of Alpha Kappa Alpha Sorority, Charlyn serves in leadership capacities for several philanthropic organizations, including the National Bar Association, Junior League of Washington, and the White Dress Project. In 2022, she received the Hall of Fame award from the Southern Region of the National Black Law Students Association. In 2021, she received the ICON Talks Visionary award for her work in promoting multiculturalism and diversity in the media and was named Outstanding Woman Lawyer in Politics by the National Bar Association's Women Lawyers Division.
Charlyn holds a J.D. from Florida International University's College of Law and a B.S.B.A. and M.P.A. from the University of Central Florida.