NAB Online Leadership Academy
Schedule
Summer 2015 Webcasts
Nine Approaches to Monetizing Mobile
Available on-demand NOW
Looking for practical mobile solutions that can serve your marketplace and create new revenue for your stations at the same time? Discover nine tangible ways to profit from the connectivity a mobile device affords consumers.
Presenter: Paul Jacobs, President, jacAPPS; Vice President, General Manager, Jacobs Media
View Webcast
Eight Ways to Monetize Your Community Service Efforts
Available on-demand NOW
Where does it say your station's community service efforts can't benefit the bottom line? Learn eight common sense ways to take what your station already does best and make it work to your financial benefit. Presented by a 2015 Crystal Heritage Award-winning station!
Presenter: Julie Koehn, President, WLEN Radio
View Webcast
How Air Talent Can Achieve Ratings Success by Thinking Like Salespeople
Available on-demand NOW
Every on-air personality is looking for the secret to ratings success. Few would look to their station's sales teams for this type of guidance. See how the skills that make an effective salesperson can be translated to help an on-air personality grow their audience and make them more successful.
Presenters: Steve Allan, Programming Consultant, Research Director, Inc.; Charlie Sislen, Partner, Research Director, Inc.
View Webcast
How to Steer Your Station Clear of Potholes
Available on-demand NOW
Potholes. They're common, they resurface and they cause lots of grief and aggravation. Uncover the deepest business/management potholes radio broadcasters fall into, ways to recognize them, how to steer clear of them and how to repair the damage they cause.
Presenter: Mark Levy, President, Revenue Development Resources
View Webcast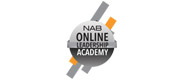 WEBCAST LOG IN
If you have already registered for the webcasts, click the button below to log in.
LOG IN TO VIEW WEBCAST
TECHNICAL INFORMATION
NAB makes every effort to deliver high quality streaming video. There are some cases where the stream may not work and you will experience buffering issues. If you experience such issues, click here for technical troubleshooting tips.
It is strongly recommended that participants attempt to log in to the webcast at least 15 to 30 minutes prior to the webcast to test your connection.
For further technical assistance, please contact (202) 775-3510 or jmiely@nab.org.