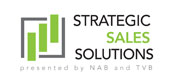 Strategic Sales Solutions
All webcasts are presented LIVE from 4-5 p.m. Eastern Time. Each live session includes interactive Q&A.
UPCOMING LIVE WEBCASTS

---
Add More Health to Your Bottom Line
August 4, 2016
Moderator
Brian Allers, VP, Local Division, TVB
Panelists
Barbara Anderson, GSM, WBAL in Baltimore
Brad Chambers, President of MedStar Union Memorial Hospital and MedStar Good Samaritan Hospital



Topics to be discussed:

Prospecting techniques: What to say and how to say it
Understanding healthcare marketing budgets
Tips for helping move dollars from newspapers to broadcast
Developing creative that works
Audience Q&A
---
Money-making Strategies You Can Take to the Bank
December 13, 2016
---
Each webcast is $150 or stations may subscribe to the entire series for a discounted fee of $450 for all four 2015 sessions.
All webcasts are presented live from 4 to 5 p.m. Eastern time. An archive will be available within 24 hours following the live webcast presentation.
Questions: Call (202) 429-5425 or email TV Events.
On-Demand Webcasts
Get Into the Fast Lane: Accelerate Your Automotive Sales
Moderators
Brad Seitter, EVP, Business Development, TVB
Steve Sturm, Executive Auto Consultant, TVB

Panelists
Robert P. Getz, VP of Automotive for Texas, Univision
Bianca Filio-Allison, AE at KUVN/KSTR, Univision
Richard Bustillo, Director of Sales and Marketing, South Motors Automotive, Miami, Fl


Topics discussed include:

A-Z information for sellers of all levels
Automotive overview for the remainder of 2016
Insight from major local auto dealers on the changing media landscape
Inside information from a principal owner on how top tier dollars are allocated and why
Audience Q&A
Rebuild Your Home Improvement Strategy

Moderator
Brian Wexler, Vice President, Local Division, TVB
Panelists
Anna Olivier
, Owner & Operator of Jim Olivier's Home Improvement
Amy Rahn
, Owner, New South Windows, Florida
Topics discussed included:

What type of buying strategy works best
Contractor's legal hurdles and why you need to know them
Seasonal Opportunities
Promotional and creative conversation starters
Audience Q&A
Special Edition: A Programmatic Primer
On-Demand Webcast
Moderator
Matt Prohaska
, CEO & Principal, Prohaska Consulting
Panelists
Thomas Baiter
, Director of Partner Engagement, clypd
Jeremy Hlavacek, Vice President, Programmatic, The Weather Company
Topics discussed include:
An overview of programmatic including current trends and future growth
Expert advice from broadcast stations currently involved with programmatic
Insights from a programmatic media buyer
Ad buying perspectives from an adtech company
Audience Q&A
---
Put More Gas into Your Automotive Ad Sales
On-Demand Webcast
Moderator
Brad Seitter
, EVP of Business Development, TVB
Panelists
Steve Sturm
, TVB Executive Auto Consultant and former Group Vice President of Toyota North America
Topics discussed include:
Which brands will spend more money in 2016 and why
Tier 1 and 2 planning happening now
2016 new car releases
Talking points for your dealer
Audience Q&A
---
Make Room for Furniture in Your Sales Strategy
On-Demand Webcast
Moderators
Brian Allers
, Vice President, Local Division, TVB
David DiPonio, Senior Account Executive, WXYZ
Panelists
Greg Crowley
, Attorney at Law
Linda Legato
, Owner, Bill a& Rod's Appliance
---
Mobilize Your Creative to Maximize Legal Sales
On-Demand Webcast
Moderators
Brian Wexler
, Vice President, Local Division, TVB
Mark Weist, Vice President of Sales and GSM, KSL Broadcast Group
Panelists
Abbe McClane, Attorney at Law
Brooke DeBry, Owner, Media Method
Matthew Powell, Powell & Espat
---
Selling Automotive: Get the Download from Leading Dealers
On-Demand Webcast
Moderator
Brian Wexler, Vice President, Local Division, TVB
Panelists
Scott Fink, President & CEO, Hyundai of New Port Richey
John Marazzi, Co-owner, Brandon Honda
---