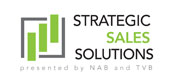 Strategic Sales Solutions
All webcasts are presented LIVE from 4-5 p.m. Eastern Time. Each live session includes interactive Q&A.
UPCOMING LIVE WEBCASTS

---
Get Into the Fast Lane: Accelerate Your Automotive Sales
May 17, 2016
Moderator
Brad Seitter, EVP, Business Development, TVB

Panelists
Robert P. Getz, VP of Automotive for Texas, Univision



Topics to be discussed include:

A-Z information for sellers of all levels
Automotive overview for the remainder of 2016
Insight from major local auto dealers on the changing media landscape
Inside information from a principal owner on how top tier dollars are allocated and why
Audience Q&A
---
Add More Health to Your Bottom Line
June 28, 2016
---
Money-making Strategies You Can Take to the Bank
December 13, 2016
---
Each webcast is $150 or stations may subscribe to the entire series for a discounted fee of $450 for all four 2015 sessions.
All webcasts are presented live from 4 to 5 p.m. Eastern time. An archive will be available within 24 hours following the live webcast presentation.
Questions: Call (202) 429-5425 or email TV Events.
On-Demand Webcasts
Rebuild Your Home Improvement Strategy
Moderator
Brian Wexler, Vice President, Local Division, TVB

Panelists
Anna Olivier, Owner & Operator of Jim Olivier's Home Improvement
Amy Rahn, Owner, New South Windows, Florida


Topics discussed included:

What type of buying strategy works best
Contractor's legal hurdles and why you need to know them
Seasonal Opportunities
Promotional and creative conversation starters
Audience Q&A
Special Edition: A Programmatic Primer
On-Demand Webcast
Moderator
Matt Prohaska
, CEO & Principal, Prohaska Consulting
Panelists
Thomas Baiter
, Director of Partner Engagement, clypd
Jeremy Hlavacek, Vice President, Programmatic, The Weather Company
Topics discussed include:
An overview of programmatic including current trends and future growth
Expert advice from broadcast stations currently involved with programmatic
Insights from a programmatic media buyer
Ad buying perspectives from an adtech company
Audience Q&A
---
Put More Gas into Your Automotive Ad Sales
On-Demand Webcast
Moderator
Brad Seitter
, EVP of Business Development, TVB
Panelists
Steve Sturm
, TVB Executive Auto Consultant and former Group Vice President of Toyota North America
Topics discussed include:
Which brands will spend more money in 2016 and why
Tier 1 and 2 planning happening now
2016 new car releases
Talking points for your dealer
Audience Q&A
---
Make Room for Furniture in Your Sales Strategy
On-Demand Webcast
Moderators
Brian Allers
, Vice President, Local Division, TVB
David DiPonio, Senior Account Executive, WXYZ
Panelists
Greg Crowley
, Attorney at Law
Linda Legato
, Owner, Bill a& Rod's Appliance
---
Mobilize Your Creative to Maximize Legal Sales
On-Demand Webcast
Moderators
Brian Wexler
, Vice President, Local Division, TVB
Mark Weist, Vice President of Sales and GSM, KSL Broadcast Group
Panelists
Abbe McClane, Attorney at Law
Brooke DeBry, Owner, Media Method
Matthew Powell, Powell & Espat
---
Selling Automotive: Get the Download from Leading Dealers
On-Demand Webcast
Moderator
Brian Wexler, Vice President, Local Division, TVB
Panelists
Scott Fink, President & CEO, Hyundai of New Port Richey
John Marazzi, Co-owner, Brandon Honda
---