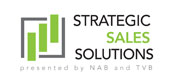 Strategic Sales Solutions
All webcasts are presented LIVE from 4-5 p.m. Eastern Time. Each live session includes interactive Q&A.
SPECIAL EDITION! A Programmatic Primer
LIVE WEBCAST - December 15, 2015
Moderator
Matt Prohaska
, CEO & Principal, Prohaska Consulting
Panelists
Ryan Meerstein
, Senior Director, Client Strategy, Targeted Victory
Topics to be discussed include:
An overview of programmatic including current trends and future growth
Expert advice from broadcast stations currently involved with programmatic
Insights from a programmatic media buyer
Ad buying perspectives from an adtech company
Audience Q&A
---
Put More Gas in Your Automotive Ad Sales!
ARCHIVED WEBCAST
Moderators
Brad Seitter, EVP, Business Development, TVB
Steve Sturm, Executive Advisor, Automotive, National Business Development Division
Topics to be discussed include:

Which brands will spend more money in 2016 and why
Group and manufacturer level planning happening right now
2016 new car releases
Talking points for your dealer
Audience Q&A
---
Make Room for Furniture in Your Sales Strategy
ARCHIVED WEBCAST
Moderator
Brian Allers, VP, Local Division, TVB.
David DiPonio, Senior Account Executive, WXYZ (Scripps).
Panelists
Greg Crowley, Owner, Crowley Furniture
Linda Legato, owner of Bill & Rod's Appliance.
Topics to be discussed include:
Strategies to create unique campaigns to stand out in this category
Lessons from business owners who have built their businesses using the power of broadcast
Success stories from sales executives
Ideas and tactics for incorporating digital into campaigns
---
Selling Automotive: Get the Download from Leading Dealers
ARCHIVED WEBCAST
Moderator
Brian Wexler, Director of National Multimedia Accounts, WTSP Tampa, Fla.
Panelists
Scott Fink, President and CEO, Hyundai of New Port Richey, Hyundai of Wesley Chapel, Chevrolet of Wesley Chapel, Mazda of Wesley Chapel
John Marazzi, Co-owner, Brandon Honda
Gail Worth, Owner, Gail's Harley-Davidson
The session includes:
Conversation starters and opportunities for sales executives
Budget allocations and where the money is shifting
Proven strategies that drive sales
Recommendations for creative that work
Insider information on sponsorships, dayparts and flighting and what dealers want
Ideas that are proven to drive auto sales and increase market share
Mobilize Your Creative to Maximize Legal Sales
ARCHIVED WEBCAST
Moderators
Brian Wexler, Director of National Multimedia Accounts, WTSP, St. Petersburg, Fla.
Mark Wiest, Vice President of Sales/GSM, KSL Broadcast Group, Salt Lake City, Utah
Panelists
Brooke DeBry, Owner, The Media Method
Abbe McClane, Attorney at Law
Matthew Powell, Powell & Espat
Participants will receive:
Strategies for transitioning legal advertisers from Yellow Pages and search to local television
Best practices for creative campaigns that stand out
Advice on which attorney groups are best to approach, who to talk to and keys to closing
The best schedules for attorney groups, including which schedules work best for different attorney categories
---
Each webcast is $150 or stations may subscribe to the entire series for a discounted fee of $450 for all four 2015 sessions.
All webcasts are presented live from 4 to 5 p.m. Eastern time. An archive will be available within 24 hours following the live webcast presentation.
Questions: Call (202) 429-5425 or email TV Events.