Radio Awards
NAB radio awards recognize radio stations, personalities and leaders that demonstrate a commitment to outstanding public service, innovation and excellence in the radio industry.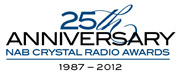 Since 1987, the NAB Crystal Radio Awards have brought national recognization to radio stations for their outstanding year-round commitment to community service.

Marconi Radio Awards
The NAB Marconi Radio Awards, presented at The NAB Radio Show each Fall, honor radio stations and outstanding on-air personalities for excellence in radio. An independent task force selects finalists in 21 categories.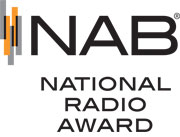 Each year the National Radio Award honors an individual who is an outstanding leader in the radio industry. The NAB Radio Executive Committee selects the award recipient. Their decision is announced late spring/early summer. The award is presented annually during the Radio Luncheon at the NAB Radio Show.