Radio and television broadcasters serve local communities every day. Stations provide lifeline emergency information, support our military, raise millions for hospitals and cancer research, collect food, clothes and toys, devote air time to election coverage, and promote education. Submit your station's stories to Suzie Raven.
Radio stations across the U.S. have raised more than $2.4 million for their local communities as of December 5, according to Radio Ink's ongoing tracker. More information about stations' fundraisers can be found here.
iHeart Media's syndicated morning show "The Breakfast Club" raised $670,000 during the #Change4Change radiothon, held November 21 – 22. This year's proceeds will go towards the newly created "Breakfast Club HBCU (Historically Black Colleges and Universities) Scholarship," which will be awarded through the Thurgood Marshall College Fund. In three years, #Change4Change has raised more than $1.7 million for various organizations.
Cox Media's KRMG-FM raised $271,000 through its 14th annual "Stories of Light" event, held November 19-21 to benefit Make-A-Wish Oklahoma. KRMG shared stories from local kids and their families to encourage donations. In addition, a local child's wish was granted during the broadcast – he was surprised with a ski trip to Canada for himself and his family. The radiothon has raised over $3 million in 14 years.
Nexstar-owned WGN-TV Chicago collected 25,000 pounds of food--enough for 21,000 meals--for the Greater Chicago Food Depository during its sixth annual food drive, held November 22. Last year, the Food Depository distributed nearly 70 million pounds of shelf-stable food, fresh produce, dairy products and meat every day - the equivalent of 159,000 meals.
Saga Communications-owned WNOR-FM Hampton Roads, Va., and WAFX-FM Suffolk, Va., collected enough food to serve over 700,000 meals during the 23rd annual Mayflower Marathon Food Drive benefits from November 22-24. The event benefits the Foodbank of Southeastern Virginia and the Eastern Shore and Virginia Peninsula Food Bank.
Beasley Media Group's WMGK-FM Philadelphia collected more than 11,200 turkeys annual "Turkey Drop" on November 26. The WMGK "Turkey Drop" is Philadelphia's largest, single-day food gathering event. The non-profit City Team Ministries will distribute the turkeys.
Cox Media Group's KRAV-FM Tulsa, Okla., collected 64,000 meals in a drive held November 15 to benefit the Community Food Bank of Eastern Oklahoma. The event, a part of the annual "Restock the Cupboards" food drive, included a 12-hour live broadcast, during which on-air talent and staff encouraged listeners to donate. In anticipation of the rivalry football game between Oklahoma State University and University of Oklahoma, KRAV also encouraged listeners to make an online donation in support of their preferred team.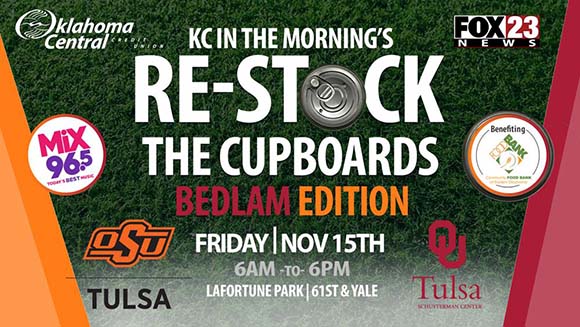 iHeart Media's WZLX-FM Boston collected over 1,200 pounds of food for a local food pantry at the annual "Turkey Meat & Greet" on November 26. Listeners brought non-perishable food items to gain entry to a Thanksgiving dinner hosted by WZLX-FM hosts Karlson, McKenzie & Heather. The event also featured a silent auction of classic rock memorabilia from artists including Alice Cooper and The Red Hot Chili Peppers. All donations went to the Pearl Street Cupboard & Café, which is run by The United Way.
Faith Communication's KSOS-FM Las Vegas partnered with a local middle school to feed 15,000 food-insecure students through the end of the year. The station's "SOS for Food" event packed backpacks with enough food to provide weekend meals through December. Local middle schoolers initiated the food drives, with all donations going to Serving Our Kids Foundation, a local non-profit that raises awareness and provides meals to children experiencing hunger in southern Nevada. The students also helped KSOS-FM pack and sort donations.
NBC-owned WBTS Boston aired an investigation that prompted Sen. Ed Markey (MA) to contact Tesla with concerns about safety flaws in the autopilot system. That report, which aired on November 11, was a follow-up from investigative journalist Ryan Kath on a September story about a driver who fell asleep behind the unmanned wheel on the Massachusetts Pike.
Quincy's dual NBC-CW affiliate KWWL-TV Waterloo, Iowa, aired an hour-long special on November 21 focused on the challenges facing farmers. "Growing Forward: The Future of Farming in Iowa" special included a live panel discussion featuring Iowa Secretary of Agriculture Mike Naig.

The special examined the impact of the trade war, changes in technology, the uncertainties of weather and markets, and issues with what happens to the family farm if younger generations choose different careers. They also talked about managing the growing size of conventional farm, as farm sizes in the past few decades have grown from a few hundred acres to several thousand acres.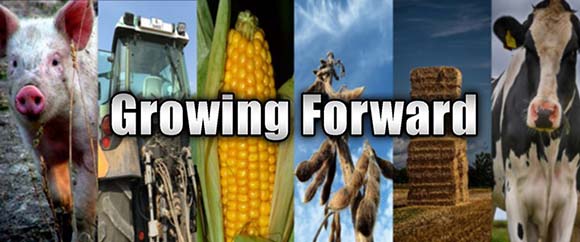 The Poynter Institute announced on November 21 that its International Fact-Checking Network (IFCN) and Univision News will provide Spanish-speaking audiences in the U.S. with information about fact-checking work produced leading up to the presidential election. IFCN Associate Director Cristina Tardáguila has begun publishing a weekly op-ed column in Spanish on Univision Noticias. The English version appears on IFCN's and Poynter's social networks.
NBC News' "Meet the Press" recently launched "County to County," a project focusing on five key counties in swing states that moderator Chuck Todd said are "likely to decide this election." Todd and reporters Vaughn Hillyard and Dasha Burns will provide election coverage from Milwaukee County (Wisconsin), Kent County (Michigan), Beaver County (Pennsylvania), Miami-Dade County (Florida) and Maricopa County (Arizona).
Hubbard's ABC affiliate KSTP-TV St. Paul, Minn., conducted a six-month investigation that uncovered at least $30,000 in questionable spending by a University of Minnesota professor. Professor Aaron Doering allegedly charged first-class flights, expensive meals, vacations and gifts to the university that appear unrelated to his work. As a result of KSTP's report, University President Joan Gabel sent an email to all faculty and staff with the subject line "holding ourselves accountable" and asked them to review the university's expense policy. The university recently launched an investigation of Professor Doering, but KSTP found administrators knew of his alleged misuse of funds in December 2017.
Cumulus Media's WVLK-AM Lexington, Ky., aired "Enough: Opioid Awareness Day" on November 13. The nine-hour broadcast addressed different facets of how the opioid crisis impacts Central Kentucky and the entire commonwealth. The program featured representatives from the Lexington city government, local organizations and businesses.
Hearst's ABC affiliate WCVB-TV Boston raised more than $300,000 in its "Project CommUNITY: Helping Veterans Heal" telethon on Veterans Day, November 11. WCVB anchor and Air Force veteran Randy Price hosted the event, held with partner, Home Base. The stories featured during the telethon also raise awareness for Home Base's programs and encourage veterans to reach out for assistance.
iHeartMedia's WRKO-AM Boston raised over $230,000 on November 8 during a radiothon to benefit the Disabled American Veterans (DAV) in Massachusetts. WRKO personalities encouraged listeners to support DAV programs, which include a homeless shelter and transportation assistance. Since 2016, the DAV Radiothon has raised over $600,000.
American General Media's KERN-AM Bakersfield, Calif., and host Ralph Bailey presented Honor Flight Kern County with a check for $29,200 to help send 14 local veterans to Washington, D.C., where they will visit memorials honoring their service. The check was presented on Veteran's Day, November 11.
Pamplin Broadcasting's KPAM-AM Portland, Ore., raised $51,000 for "Operation Helping Our Heroes" on November 15. The Clark County Veterans Assistance Center will use the funds to help active military, veterans and their families obtain benefits and services.
Entercom Philadelphia and the Travis Manion Foundation's "Operation Legacy Service Project" renovated the home of Aaron Kisela, a veteran who is also a police officer, EMT and firefighter. The renovated home was unveiled on November 15. WIP-FM, KYW-AM, WPHT-AM, WTDY-FM, WBEB-FM and WOGL-FM told Kisela's story over the past several months through on-air, online and social media content.
Thank you for your support as we enter the final stretch of the NAB Congressional PSA campaign. Please help us finish strong with frequent airings in December. To ensure compliance with federal election laws and avoid equal time rule requirements, please do not air PSAs from this campaign after December 31, 2019.
PSAs are available to radio and television stations via Extreme Reach. The six topics for the :30 spots are support for veterans, support for small businesses, opioid abuse prevention, mental health awareness, cancer prevention, and encouraging blood donations.