Jeanine Warisse Turner, Ph.D.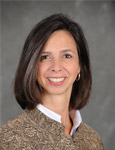 Associate Professor
Communication, Culture and Technology Program
Georgetown University
Professor Turner's research explores the human factors and management issues involved in the introduction of new communication technologies within organizations and the development of virtual organizations. Specific examples of this research include the study of instant messaging and multicommunicating, computer-mediated bulletin boards as a form of social support, use of videoconferencing technology and the Internet for distance education and the implementation of telemedicine technology as a means of augmenting the delivery of health care services. Turner teaches courses in business communication, executive presentations and the impact of communication technologies on organizations to graduate students, executives and undergraduates.
She has also developed a course called "Critical Conversations: How to Discuss What Matters Most" that she has taught within Georgetown's MBA and Executive Masters in Leadership programs. Some of the organizations she has worked with include: National Association of Broadcasters, National Football League, Verizon, the country of Montenegro, Texas Instruments, U.S. Department of Agriculture, AOL, OPIC, International Security Managers Association, U.S. Chamber of Commerce, Sprint/Nextel, Rolls Royce, the Pentagon and the staff of the U.S. Senate.
Professor Turner has published in Academy of Management Review, Annual Review of Biomedical Engineering, Journal of Communication, Journal of Computer-Mediated Communication, Journal of Business Communication, Healthcare Management Review, Journal of Telemedicine and Telecare, Telemedicine Journal, Journal of Continuing Education in the Health Professions, International Journal of Medical Marketing, Health Communication and the Administrative Radiology Journal. She has presented at more than 75 regional, national and international conferences.