Big Tech's Advantage: Capitalizing on Local News and Diverting Dollars Into their Own Coffers
The business practices of the Tech Giants prevent local stations from recouping their investment in local journalism, as these platforms exert enormous influence over what online content is eligible to be monetized. Big Tech controls the share of revenue they retain and the amount passed on to the content providers, who ironically bear the costs of producing the quality journalism that benefits the platforms.
This takes ad dollars away from stations that would reinvest them in serving the community and diverts them to the Tech Giants. For example, local broadcasters see at best a little more than half of the revenue from video ads on YouTube, and Facebook reportedly offers the same revenue share for instream ads.
In fact, a 2021 report by BIA Advisory Services focusing on Google Search and Facebook News Feed found that local broadcasters lose an estimated $1.873 billion annually by providing their content to these platforms.
And because of the size and power of Big Tech, their policies are almost always "take-it-or-leave-it." Even though they disadvantage local stations, there is little power to negotiate with the Tech Giants because broadcasters would lose access to hundreds of millions of consumers if they simply declined to publish their content on these platforms.
This overwhelming power was on full display recently when Facebook chose to block all news content from Australia to avoid compensating news publishers in that country. They later reversed the decision, but it was too late – Facebook had already shown its true colors and abused its dominant market power.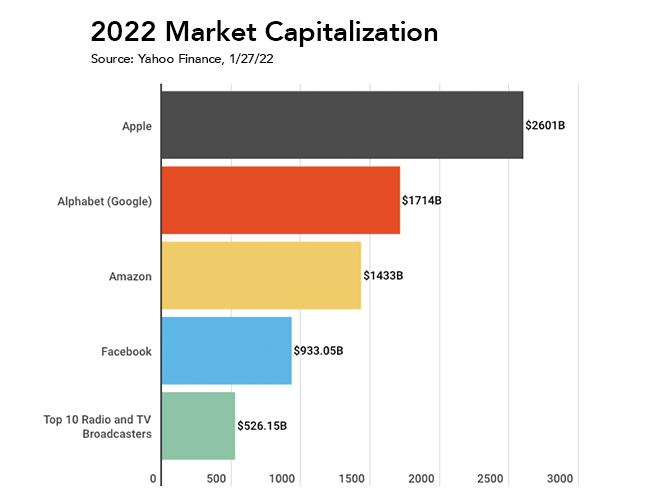 Additionally, the individual ad revenues of each of the Tech Giants dwarf those of the entire broadcast industry.